10 Easy Ways To Ensure Your New Home's Safety
April 20, 2019 at 11:00 AM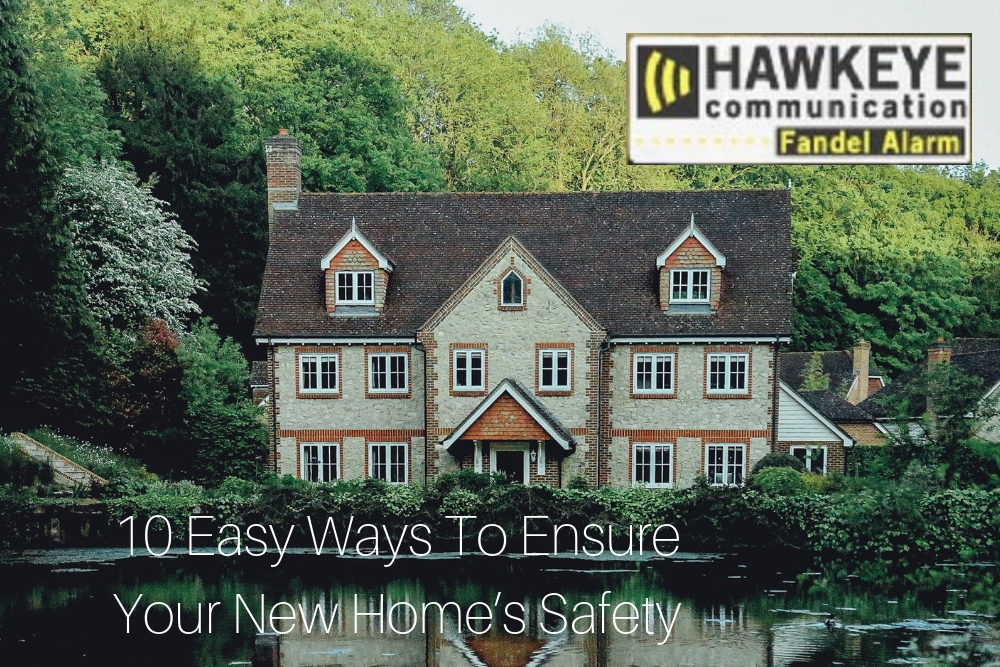 Danger is everywhere. You can not always be sure that if you are at home, you won't meet a danger. As you move into your new home, there are security risks you need to consider. Here are some tips you can follow to secure your new place.
1. Secure Your Doors
Don't make it easy for burglars. Make sure that all your doors are securely locked. Especially your main door. Inspect all the exterior door frames, hinges, and knobs are strong and firm. If your door has an attached mail slot make sure that the knob is unreachable through it.
Here are some things you can add to make your doors more secure:
Install DeadBolts

Add Strike Plates

Use Smart Locks

Install Video Doorbell
Additional: If you are using a sliding door, make sure you reinforce your doors and windows with bars or dowel to keep it from being forced open. Install a door sensor and glass break sensor for advance security that will alert you if the door or window tampers and it will discourage thieves for further crime.
2. Lock Your Windows
Windows aside from doors are one of the most common access points for thieves. If your window locks seem fragile, opt for sturdier locks and key operated levers.
Here are other things you can do to burglar proof your window:
Strengthen your windows with security film

Install glass break sensor

Add a window bar

Place prickly bushes near our window (just be sure to keep them trimmed)
3. Lighten Up Your Landscape
A dark garden is a potential hiding place for burglars. Thus, its best to light up your outdoor space using lights placed in your front and backyards, pathways, garage doors, and garden to discourage potentials burglars.
You can also use motion activated lights and light timers.
4. Keep In Mind Your Garage
This is an access point that is now becoming popular among burglars. They might not be able to get inside the house through the garage but they can still steal all your tools.
Always keep your garage doors locked and as much as possible, place your garage door opener inside the house to prevent burglars from stealing your car. Security code numbers should always be kept secret.
Here are some additionals:
Install a smart garage door opener

Cover the windows to keep your things out of sight
5. Install A Security System
Whether it is a DIY system or a professional system, your new home should be equipped with a security system. There is a variety of advanced home security system now in the market, including Honeywell, that can cover the protection you desire at a reasonable price.
But here are some things to keep in mind:
Installation process

Brand Reputation

Customer service

Security system capabilities

Monthly costs

Additional systems like smoke and carbon monoxide monitoring
6. Secure Your Wi-Fi Network
Your wireless network is one doorway through your personal and financial information. Hackers can go through your network and seek valuable information such as bank details. You can use home automation to help you secure your network.
Here are some tips for you:
Secure your router

Always use WPA(Wi-Fi Protected Access) encryption

Rename your home network

Keep your network hidden

Use a firewall

Install antivirus and antimalware

Use strong passwords
7. Reduce Hiding Places
Trees, bushes, and shrubs are a beautiful decoration to your landscape but these are also a potential hiding place for thieves. Make sure to always trim them and don't place tall bushes and trees from your window.
Here are some habits you can start:
Always keep away stool and ladders outside your house

Lock gates and exterior doors

Lock all your windows

Do not display pricey goods outside your house

Put up security signs and stickers
8. Install Security Cameras
This is one of the security systems that does not only deter potential burglars but also a great reference if such cases arise. Often times, security cameras are part of the package of a home security system but if not, add these to your system. A security camera with a mobile app for real-time monitoring is also highly recommended.
Here are the things you need to look in a security camera:
9. Use a Vault
Setting up a vault or safe can help you hide your most valuable things when thieves passes through your security system. Passports, jewelry, and other important documents can be placed on your safe. However, do make sure that this is not easily distinguishable. Also, ensure that your vault is fire-resistant and water-proof.
Here are suggestions for your vault:
Choose vault or safes with redundant locks

Choose the correct size that can cater to your valuables

Decide whether you want it portable or anchored
10. Apply Home Automation
Are you planning to turn your regular home to a smart home? Home automation can help you with this. It can give your remote access to control your lights, security locks, video cameras, smoke detectors, alarms, and other safety devices. You will be able to get real-time alerts if there's any suspicious activity on your home and lets you act quickly.
Here are some ways you can use home automation for your security:
Scheduled time to switch on and off the lights and TV

Scare thieves with two way talk with a smart video doorbell

Obtain an instant video feed when someone walks on your surroundings

Check out smoke alarms and shut it off if its a false alarm
Protecting your home will not only keep your property intact but it will also save the lives of your loved ones. If you need help, don't hesitate to contact us at (319) 362-4300.
Tags: