10 Shocking Home Burglary Facts and How to Prevent Them
October 15, 2018 at 9:00 AM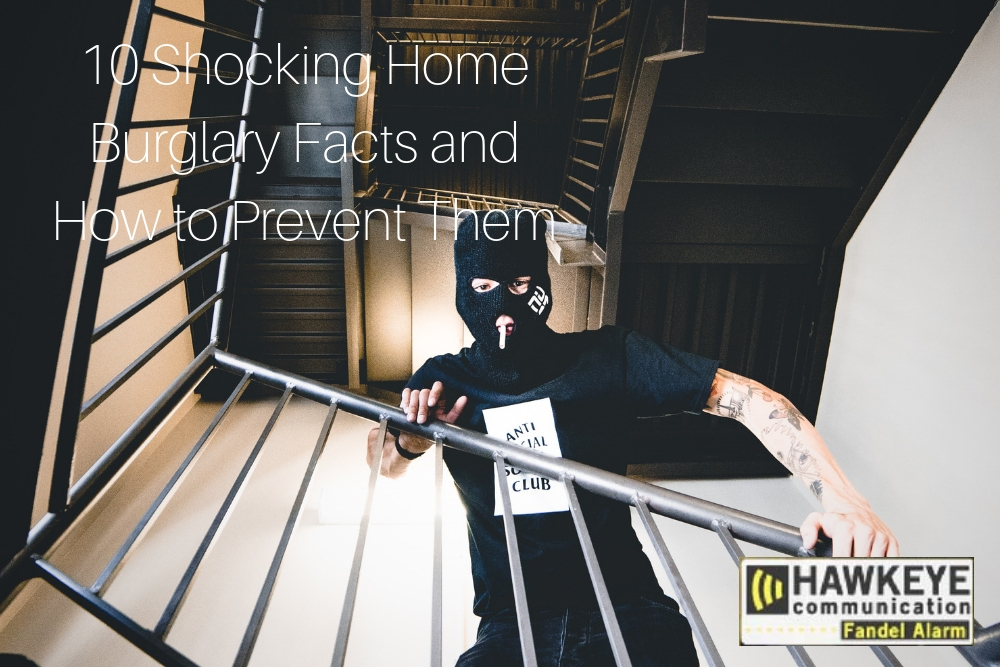 Did you know that a burglary takes place every eighteen seconds in the U.S.? This means that there are roughly 200 per hour and 4,800 each day. These statistics are alarming but they remind us how important it is to be vigilant about our home security. The more you learn about burglary and home security solutions, the more you can protect your family and property.
Below are some disconcerting facts about burglary we'd like you to be aware of and what you can do to enhance security around your Waterloo, Cedar Falls, Iowa City, or Cedar Rapids home.
The University of North Carolina, specifically the Charlotte Department of Criminal Justice and Criminology reports that 60% of convicted burglars said the presence of a home security system impacted their decision to go to the next home.
Prevention: Take the time and money to invest in a quality, monitored home security system to reduce your chances of burglary. A professional team like Hawkeye Communication will help you pick out the perfect system for your home.
2. Burglaries usually happen between 10:00 am and 3:00 pm
A lot of people have the misconception that most burglaries take place at night, but that's not the case. Daytime hours are more likely to see break-ins because people are at work or school.
Prevention: The key to preventing a burglary is to install indoor and outdoor motion-activated cameras that will monitor your home when something is detected. This will then send an alert to your smartphone so you can assess the situation.
3. Most break-ins are committed by nearby thieves
The majority of us never give a thought to the person doing the burglary, which is why it's shocking to learn that the average break-in is executed by someone living within a two-mile radius of your home. Why is this? Burglars who live close have an easier time memorizing your schedule.
Prevention: Vary your family's routine as much as you can. Also, take advantage of:
4. Burglaries usually last less than ten minutes
Burglars look for homes that are easy targets. This is why it takes less than ten minutes for them to get into your home, take what they want, and clear out before alarming anyone.
Prevention: Your home security plan doesn't have to be as diligent as Fort Knox, but having a security system in place will keep all entrances closed and locked. It will also give you remote access so you can lock them from your desk if you forget.

5. Roughly 30% of burglars enter through an unlocked window or door

Burglars look for the path of least resistance so if they spot an unlocked window or door, that's what they'll use.

Prevention: Install motion sensors on your windows and doors (especially those on the first-floor) to sound the alarm in the event of a breach.

6. 34% of burglars use the front door

Burglars will try to use your home's main entry point to avoid alerting your neighbors.

Prevention: Speak to Hawkeye Communication today about your home's security needs. We'll visit your property in Cedar Rapids, Cedar Falls, Waterloo, or Iowa City and give you a quote as well as our security recommendations.


7. Your master bedroom is the first target

If you take a look around your home and your bedroom, are your valuables well hidden? If you're like most people, probably not. Thieves will target your master bedroom first looking for electronics, cash, weapons, and jewelry.

Prevention: Protect your valuables by securing them in a safe that's bolted to the floor. You can also hide them away.

8. Burglaries cost victims around $2,251

The cost of a professionally installed security system is far less than the average monetary and emotional cost of a home burglary.

Prevention: The team at Hawkeye Communication will do its best to find a security solution for you within your budget.

9. 3/10 burglaries occur when someone is home

The thought of coming home to a raided house is alarming enough, but discovering the likelihood that a break-in will occur when someone is home is downright frightening. The U.S. Department of Justice states that a household member is present during 28% of burglaries and 7% of these victims experienced a violent crime as a result!

Prevention: Always have your home security system alarmed, even when you're home.

10. Few burglaries result in arrests

Burglaries are often difficult crimes to solve because police usually have little to go on. And, of course, catching the culprit doesn't mean you'll get your property back.

Prevention: Hawkeye Communication has a wide range of security cameras available for your home that will produce high-quality streaming footage that will help keep your home safe and help police should a break-in occur.
Tags: