3 Reasons the Honeywell 5800 Combo is Your Wireless Smoke and Carbon Monoxide Detector of Choice
September 23, 2018 at 8:00 AM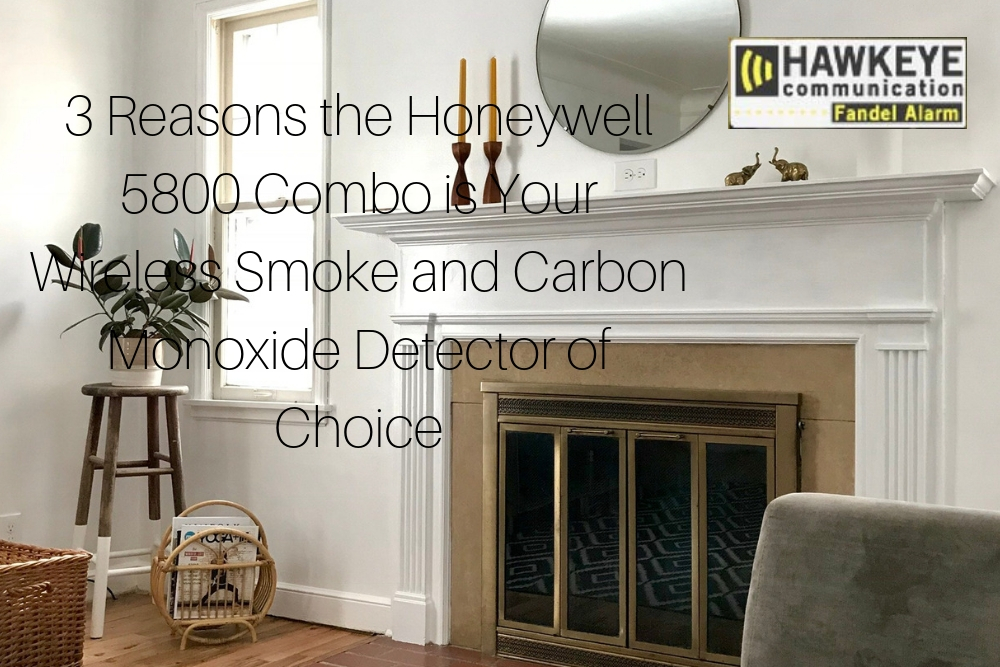 Choosing the right smoke and carbon monoxide detector can be tough. There are a lot of home detection brands and products on the market, so where do you start?
Fortunately, selecting the best smoke and carbon monoxide detection system is well within your grasp! Take Honeywell's 5800 Combo, for example.
Honeywell is a reputable brand that's been making home security and monitoring products for the last 75 years. Their goal to make quality products and to work with top-notch home security businesses.
Hawkeye Communication is Iowa's Honeywell authorized security and fire dealer. As a team that takes pride in this certification, our focus is to give you the best life safety and detection services possible. Not only will we come to your home in Waterloo, Cedar Falls, Cedar Rapids, or Iowa City, but we'll also make product and system recommendations based on your home's specific needs.
Achieving the Life Safety You Deserve
The goal of working with any Honeywell product is to enhance the safety and security of your home so you can have peace of mind.
One of the most convenient products you'll invest in is a combination smoke and carbon monoxide detection system, such as the Honeywell 5800 Combo. This system has the fire and carbon monoxide detection you need to keep your family safe.
Let's take a look at some of the reasons why the Honeywell 5800 combo is the smoke and CO detector of choice.
1. Detects multiple threats
Iowa requires both smoke and carbon monoxide detection in homes, so why not invest in a system that does both?
The 5800 Combo is actually the industry's first professionally monitored, wireless combination smoke and carbon monoxide detector design to help your property and your family. The system uses for sensing elements to provide multi-threat detection. It also reacts quickly to danger while reducing false alarms.
And it's wireless!
How it works: A photoelectric chamber senses airborne smoke particles while an electrochemical sensor monitors the CO bi-products in the air.
2. Advanced technology
If you go back to the past three or four years, Homeowners were frustrated with many of the smoke and carbon monoxide detectors on the market because of their false alarms.
Honeywell has incorporated advanced technology to avoid false alarms and alert you the moment there's a threat.
The 5800 Combo features infrared flame sensing that measures ambient light levels and flame signatures, while thermal detection monitors the temperature in your home.
By using sophisticated and trusted algorithms, the system can determine and respond to various inputs, which prevents false alarms. Plus the electrochemical sensor lasts for up to 10 years so you don't have to worry about your system for a long time!
3. Reliable life safety
With the 5800 Combo, you'll never have to worry about not hearing it! With a built-in 85 dB piezo sounder and a one-inch voice speaker that supports multi-language alarm feedback, you're sure to hear it the moment your detector picks up on something.
Want a quick visual with your detection system? The 5800 Combo will illuminate red when smoke is detected and blue when CO is detected in your home.
Have Yours Installed Today
There's no better way to keep your family safe than choosing a detection system that monitors both smoke and carbon monoxide. Let the team at Hawkeye Communication visit your home in Cedar Rapids, Iowa City, Waterloo, or Cedar Falls to give you an estimate!
Tags: