3 Reasons Why You Should Choose Honeywell Access Control Systems
August 13, 2018 at 2:00 PM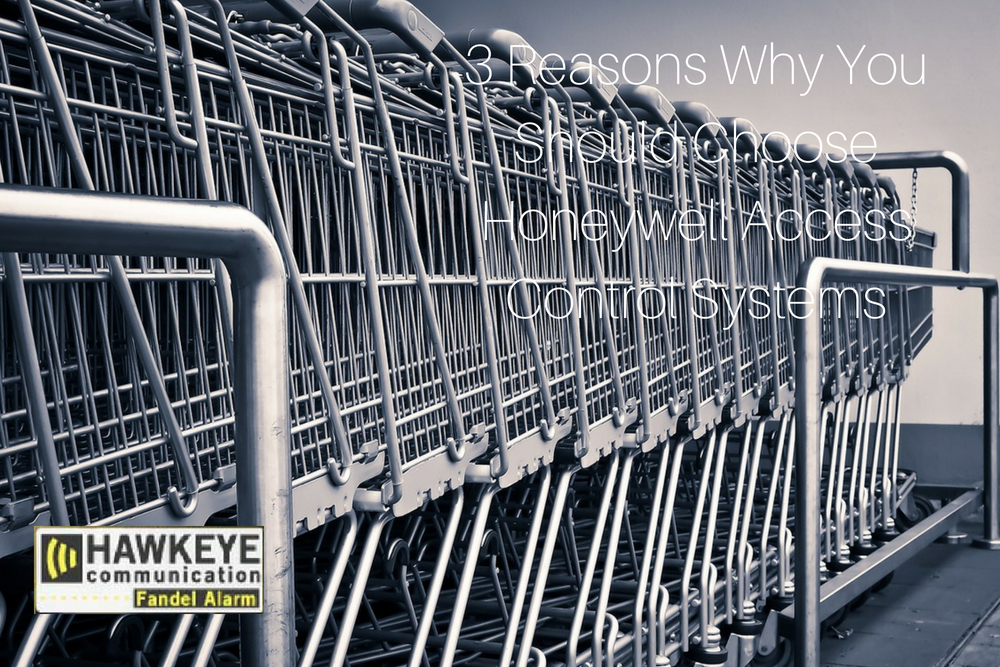 When it comes to commercial security and access control, you won't find anything more comprehensive than Honeywell.
Honeywell access products are all about keeping your property, customers, and employees safe, which is why they offer everything including:
Readers with keypads

Barcode sliders

Biometric fingerprint readers

Products for businesses of all sizes
Unmatched Reliability
At the end of the day, you need to know that your business is secure. That's why Hawkeye Communication creates personalized access control security systems based on your individual needs.
Our team knows that no two businesses are the same. As a Honeywell Authorized Security Dealer, we'll assess your commercial property in Cedar Rapids, Iowa City, Waterloo, and Cedar Falls.
Once we visit, we'll provide our recommendations so you can create the commercial security system you need. Honeywell products are innovative, dependable, and can be scaled as your business grows.
Let's take a look at the three biggest reasons to choose Honeywell products when creating the access control system you've always wanted.
1. Honeywell Systems Integrate with Fire, Carbon Monoxide, and Break-In Alarms
To have a reliable security system you need to have products that work together and a team that knows how to set them up. Honeywell access products integrate with your fire, carbon monoxide, and break-in alarms for maximum protection.
The security experts at Hawkeye Communication will show you how to customize lockdown procedures, detect when a door has been open for too long, and delete a credential if it becomes lost or stolen.
2. You'll Use a Single Platform
There's nothing more frustrating than having to use multiple interfaces to make your security system work. With Honeywell's WIN-PAK interface you'll work in a single platform for all of the video surveillance and intrusion detection offerings.
The platform even features a comprehensive design so you'll get reports and alerts for suspicious events.
3. Enjoy 24/7 Support
As your local security team, Hawkeye Communication won't leave you high and dry after installation.
If you have questions about your system, give us a call today and we'll help you. You can also check out Honeywell's website for information such as manuals, data sheets, and other info regarding security hardware.
Honeywell Access Control Systems Available
NetAXS: This system is the first of its kind and is designed for flexibility. Manage your security system via an integrated web browser with PC-based software.
Pre-wired power and connectors for easy installation

Embedded web server accessible via any web browser

Flexible and adaptable
 WIN-PAK SE with VISTA Integration:
Disarms/arms the system and resets alarms with one simple card swipe

Boosts sales with a turnkey system

Integrate intrusion and video surveillance as necessary
NStar: An easy-to-install system that is easy to upgrade as your business evolves.
OmniProx Proximity Readers: Comes in many sizes with an optical built-in tamper, which is a unique addition compared to other products on the market at the same price point.
OmniAssure Readers: Government compliant access readers that require no contact.
NS1: A more advanced access system compared to other Honeywell products.
Complete single door controller and proximity reader in one

Use with a single door or go up to eight

Several programming options

Comes in multiple colors to suit your decor
LobbyWorks Starter Kit: The easiest way to register visitors, track traffic, and issue badges.
Record and manage visitors

Quickly enroll visitors

Scan visitor's photo ID or business card
Get an Estimate Today
Don't leave your business vulnerable to security breaches. Contact Hawkeye Communication today to design the perfect access control security system for your business in Cedar Falls, Waterloo, Iowa City, and Cedar Rapids. Our team of security experts is ready to give you an estimate and design the ideal Honeywell security system for you.
Tags: