4 Business Security Tips
December 13, 2017 at 10:29 AM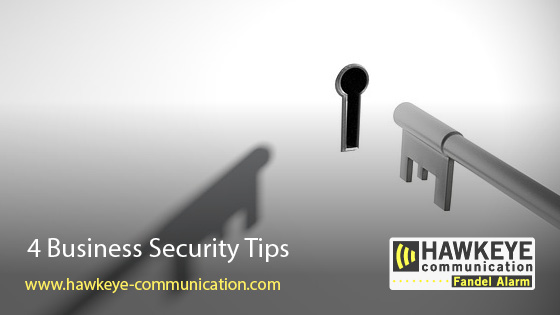 Securing your commercial business can be similar to securing your home, but ultimately there are a number of differences to keep in mind. Unlike your home, your business sits empty every night, which means certain measures need to be taken and provisions put into place to protect your facility and inventory. 
Below are some basic security tips every commercial business should follow:
Use good lighting
Even if your business isn't empty in the overnight hours, using the correct lighting is crucial. You should always be concerned about keeping your employees safe and preventing break-ins. Install lights you can leave on inside your building. Bright indoor lighting will make it easier for passersby to spot any out-of-the-ordinary activity. Then, make sure every entry point is well-lit. Doing so will force burglars to use well-lit areas so any employees walking to their vehicle can spot the activity. Proper lighting will also make it easier to see and identify intruders on your security cameras. 
Upgrade your locks
Traditional locks are a great way to start if you're just getting off the ground and your budget is spread thin. However, there are many advantages to upgrading to something more complicated. For starters, ensure you have complete access control by assigning PIN numbers or access cards to those who need to open doors. Keys can easily be stolen and duplicated, but access cards and PINs cannot. And when you have an employee leave your team, you can always change the PIN code should you feel it could be an issue.
Access cards will give you stats on who's entering the building and when which means you can keep a record of all activity. Not only will this help if there's a security breach, but it will also help you track attendance, manage employee breaks, etc. 
Beef up your alarm system
If you haven't invested in an alarm system, you should. Alarm systems not only protect you from burglary, they also protect against smoke, fire, and flooding. If you decide to invest in an intelligent system, you can even arm the system if one of your staff members forgets to - just use your smartphone! If you choose a renowned brand like Honeywell, your alarm system will be connected to the central reporting office that will notify the authorities the moment something is amiss.
Get a safe 
Safes are a must for most commercial businesses. However, it can be difficult to know which safe is best since there are so many choices on the market. Once you start browsing, you'll find that some safes guarantee against fire, which is a great benefit, especially when you need to keep your financial and inventory records protected. But did you know that most fire safes can't hold up to forceful attacks? Select a safe that can stand up to both and don't be afraid to choose one with intelligent features. 
Summary
There are many ways to keep your commercial property and employees safe. Invest in good-quality indoor and outdoor lighting, paying special attention to entryways. Don't be afraid to get a little advanced with your locks since keys can be stolen and copied. Have a high-quality alarm system installed that will protect you from multiple scenarios and invest in a durable safe that will protect against fire and blunt force.
Tags: