4 Ways To Locate Stolen Goods
July 20, 2016 at 7:11 PM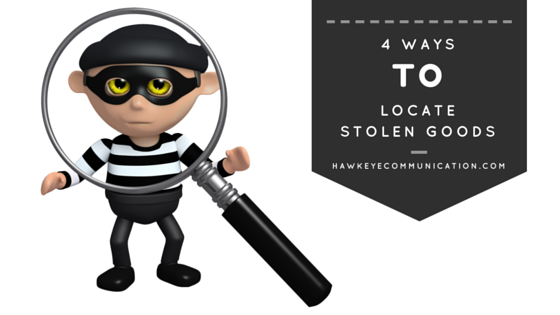 It's too late to think about "what-ifs" and too early to be shocked. An anonymous intruder has stolen valuable items from your home, ruining your peace of mind. While it's important to consider home safety and look at how you can improve your security, it's not too late to try to recover your personal effects. We've provided effective strategies on how to try and get your stuff back and help the police catch the thief.
Call the Local Police Department
The most important step of all is to enlist the help of a police department. Contact local authorities and ask them to file a police report. Be descriptive; tell them how many items were stolen, provide descriptions, and send them any pictures you may have of your stolen goods. Serial numbers and markings you've left on valuable items will help the police identify your property quickly. Be prepared for the police to visit and investigate. Don't hesitate to call the police on a weekly basis for progress updates as it's likely there are many cases like yours, so keep it fresh in their minds.
The Pawn Shops
Your next step is to find a listing of pawn shops in your city/town and the surrounding areas. When a burglar needs to get rid of stolen property fast, the pawn shop is their one-stop for easy money. If you are visiting pawn shops in person and find your valuables, don't tell the pawn shop they're yours; keep in mind these shops have already paid for your items and will lose money if they realize it's stolen. Tell the dealer you're interested and ask them to put it aside for you. Call the police immediately after leaving and notify them that you have spotted your belongings.  They will assist you from there.
Search Craigslist and eBay
Once you've contacted police and have checked out the nearby pawn shops, your best bet is to search popular consumer-based eCommerce websites. Online classifieds and shops make it easy for thieves to sell other people's items to unknowing buyers. Search eBay for new listings of your items. If you find your stolen property, print out a copy of the sale page complete with the seller's profile and information and notify the police. For Craigslist, you can use the website Stolen 911 to scan regional listings in the area. Additionally, there are several mobile apps that are often used to barter and sell a variety of goods. OfferUp, Gone, Vinted, Tradesy, and Chairish are just a few of the most popular apps in the market.
The Power of Social Media
Social media has been a powerful force for recovering people's property, especially larger items like cars and bikes. Reach out to friends and family through your profile and share a picture of what was stolen. You can also reach out to local Facebook groups for buying and selling so local consumers know to stay away if they come across the stolen goods.
You may be inclined to consider ways to improve your home safety and security after being the victim of a burglary.  One big way is to have a security system installed and include sensors on your valuables that let you know when they have been tampered with, but it's important not to give up on recovering your property. Most thieves can and will be caught. Don't forget to focus on what you can do to prevent burglars from cashing in at your expense. There's no better relief than to outsmart a thief and get your personal belongings back, safe and sound.
Tags: