5 Benefits of Using Lutron Automated Blinds
April 18, 2018 at 11:31 AM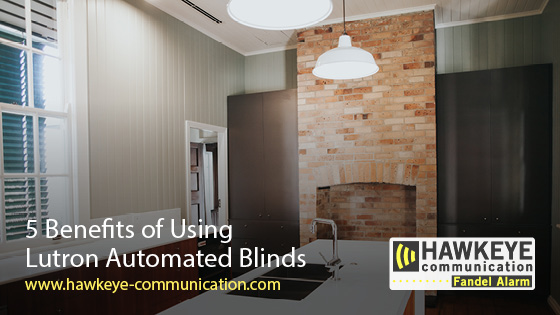 Have you been thinking about making your home more energy efficient? One of the easiest ways to do so is to use automation. Smart, motorized shades and blinds let you control the solar gain and heat loss throughout your home. Simply by programming your blinds and shades to open and close at predetermined times can save you energy and money. 
When you incorporate smart technology with blinds and shades, your blinds can actually learn when they need to open and close. How is this possible? It's all based on the temperature and amount of sunlight coming into your home. 
Today, we're digging into the specifics of using Lutron blinds and shades to maximize the energy efficiency of your HVAC system. 
1. Easy to use
Your Lutron motorized blinds can be opened and closed simply by touching a button, remote control, or by using the app on your smartphone. It is proven that window coverings reduce solar gain and prevent heat loss. When they're easy (and fun) to open and close, you're more likely to use them often, which benefits you and your home. The ability to set your own schedule makes them easy to operate, which is a great reason for installing them.
2. Appearance
In addition to being convenient, Lutron shades come in many different styles and colors so you don't have to sacrifice your personal style. Choose from a myriad of colors, finishes including gloss, matte, satin, or metal, and eight styles so you get exactly what you want.
3. Energy savings
When installing your motorized blinds, you can connect them to your smart home hub, which reduces the amount of energy your HVAC system uses. Your Lutron blinds have the ability to interact separately as well as read the temperature and amount of sunlight in the room. As a result, your blinds will know when it's the hottest part of the day, thus reducing HVAC usage by opening during a sunny day in the winter or closing on a hot day in the summer. 
4. Complete integration
Did you know that your blinds can be connected to your home security system? Controlling your shades remotely and setting a schedule both work to increase overall safety. Smart blinds can fool possible burglars into thinking someone's home when they're not. Once you've connected your blinds to your smart home system, the blinds can shut when you leave and open when you return via geofencing and a connected smartphone. 
5. Enhanced safety
If you have little ones or pets roaming around the house, motorized blinds are a big bonus because you don't have to worry about keeping them out of reach. There are other benefits of choosing a Lutron system that go beyond the lack of cords, however. Lutron shades can connect to Nest's Protect Smoke Alarm, thus telling them to open when a fire is detected inside the home. This is highly beneficial for emergency responders because it will allow them to see into the home when they arrive on the scene. 
If you've been thinking about investing in Lutron shades and blinds but haven't taken the plunge, speak to the team at Hawkeye Communication. We specialize in home automation services that work for every household. We happily service homeowners in the Cedar Rapids, Hiawatha, Marion, Iowa City, Waterloo, and Cedar Falls areas. 
Tags: