5 Benefits of Working with a Lutron Certified Dealer
April 25, 2018 at 10:34 AM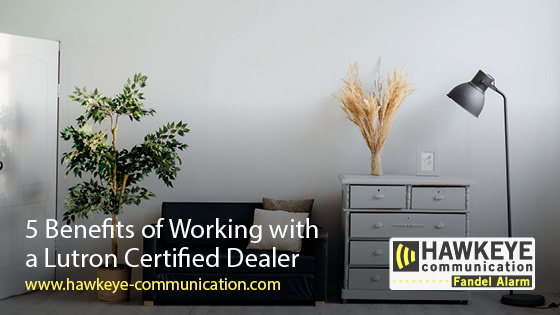 Everyone has that one room in their home that's always freezing when it's cold outside and hot when the summer heat is in full swing. What if you had the ability to control how much energy is put toward keeping that room at the ideal temperature and you could do it all at the touch of a button?
Lutron automated technologies turn your home into a smart home. With both light and temperature control, you can have the smart home you've been dreaming about and you don't have to drop a fortune! You'll also be saving a lot of money on energy costs and utility bills. 
There are several reasons to invest in Lutron automation products, especially if you have a home that doesn't stay at an even temperature. Let's look at the benefits more closely:
Learn how to control everything from an app
Now that you've decided to take the plunge and add some automation to your home you get to reap the benefits! The Smart Bridge Pro and Lutron App for Caseta Wireless are the perfect solutions for creating a connected home system. You'll be able to monitor and control lights, shades, temperature from anywhere because your Lutron certified dealer will show you how.
Advanced shade and temperature control 
Temperature control is the perfect complement to light control because it lets you adjust your heating and cooling systems at any time of the day. You can turn the heat or air up or down while you're away from home, which is pretty convenient.
With Lutron products, you have the flexibility you need to reduce heating and cooling costs, plus you'll be making your home more comfortable. Whether you need to add automation to a single room or your entire home, you'll enjoy the enhanced comfort, convenience, and energy efficiency it automation brings. 
You'll receive the knowledge your Lutron dealer has
Lutron products give you the flexibility to achieve maximum energy savings in your home. Working with a certified Lutron dealer, installer, and service provider will give you the biggest bang for your buck. This is because a Lutron certified team can assess what's currently happening in your home, design a system that works for you, install your automation products, and service them when they need work. 
Improved energy efficiency and savings
Everyone wants to save energy nowadays whether it's in small or large ways. Energy efficiency is only as good as the team that helped you set up your system. A Lutron certified team such as Hawkeye Communication has the knowledge, training, and experience it takes to help you save energy in your home. Lutron products are high-quality and technologically advanced, but they won't do you any good if the team installing them doesn't have the proper level of product knowledge.
Your system will be custom-designed
Lutron products are designed for convenience and automation but it's the Lutron certified dealer who makes the system yours. Let your authorized dealer show you how to get the most energy savings by controlling the light and temperature in your home with automated blinds and shades that can be coordinated with your heating and cooling systems. 
Hawkeye Communication serves homeowners in the Cedar Rapids, Hiawatha, Iowa City, Waterloo, and Cedar Falls areas. We strive to create home security and automation systems that save you time, money, and energy. We're a Lutron certified dealer and we're happy to give you recommendations for your home. Call today to receive your home automation estimate.
Tags: