5 Security Camera Hack Protection Tips
August 6, 2018 at 9:00 AM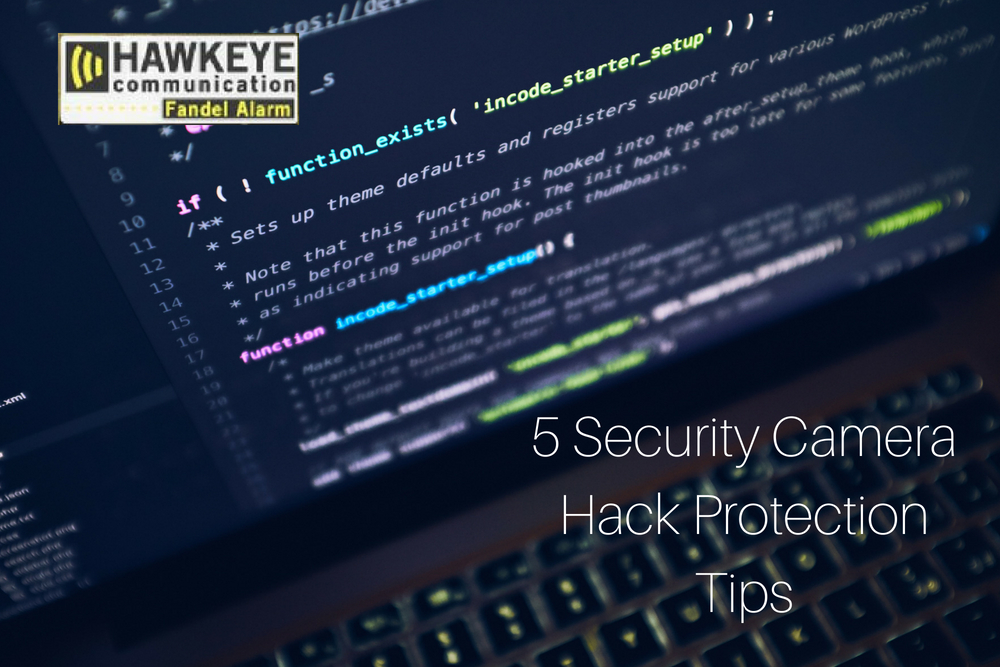 The idea of having your security camera hacked is enough to send shivers down your spine, especially if you use it to keep an eye on your children. While many of us in eastern Iowa recognize that we live in a safer community, the possibility of having your security camera hacked can't be cast aside.
There are several horror stories of homeowners finding out their security cameras have been hacked and are being live streamed across the web.
It's important to remember that because home security cameras are easy to set up and stream live footage, they're also easy to hack. Hackers can tap into your security camera, pick up, and watch your footage or broadcast it.
At Hawkeye Communication, we strive to keep your home safe and that means taking precautions against security camera hackers. To install your home security camera, give our team a call today.
In the meantime, here are some tips we suggest to keep your security camera secure.
1. Get a Security Camera with Advanced Encryption
The best way to keep your family safe is to invest in a security camera from a trusted source. Only choose home security cameras from renowned brands and those with security features, otherwise, you're likely to end up with something that's easily hacked.
If you're going it alone, we recommend purchasing a Honeywell IP camera that comes with advanced security features such as SSL/TLS encryption and WPA2-AES encryption. You can trust the security experts at Hawkeye Communication to recommend the best security cameras for your home.
2. Use Password Protection
Never use the default password for your security camera - it will raise the chances of getting hacked. Select a powerful password that would be difficult for a hacker to figure out. Shoot for something that's over 6 characters long, has a lowercase and uppercase letter combo, and uses special characters or numbers. Set yourself reminders to change the password regularly.
3. Take Steps to Secure Your Router
You should know that home security cameras are sometimes hacked by chance. If you have a neighbor who bums off your router for free internet, they could accidentally hack your security camera.
Bottom line: if you use wifi internet, keep it password protected.
4. Allow Access to Few Devices
Connect a select number of devices to your security system. Stick to your personal laptop, smartphone, and desktop computer to avoid giving too many devices access. We also suggest using a virtual private network (VPN) to control which devices can access the network to keep hackers away.
5. Set Up Boundaries
Put up a firewall and purchase antivirus software to keep your security camera clear. Not only will these protect you against viruses and malware, but they'll also deter online security camera hacking software.
Signs Your Home Security Camera Has Been Hacked
Strange noises coming from your camera or baby monitor

Abnormal camera rotation

Security setting changes you didn't make

Blinking LED light

Illuminated LED light

Spikes in your network data flow traffic
Conclusion
Installing a security camera in your home doesn't have to be a hassle. Monitoring your system and making sure it's clear of hackers is what Hawkeye Communication does best. Give us a call today and we'll asses your home in Cedar Rapids, Hiawatha, Iowa City, Waterloo, or Cedar Falls.
Keep your family's safety a priority by investing in security and your peace of mind. Get in touch with us today.
Tags: