5 Things to Consider for Your Carbon Monoxide Gas Detector Iowa Needs
September 9, 2018 at 9:00 AM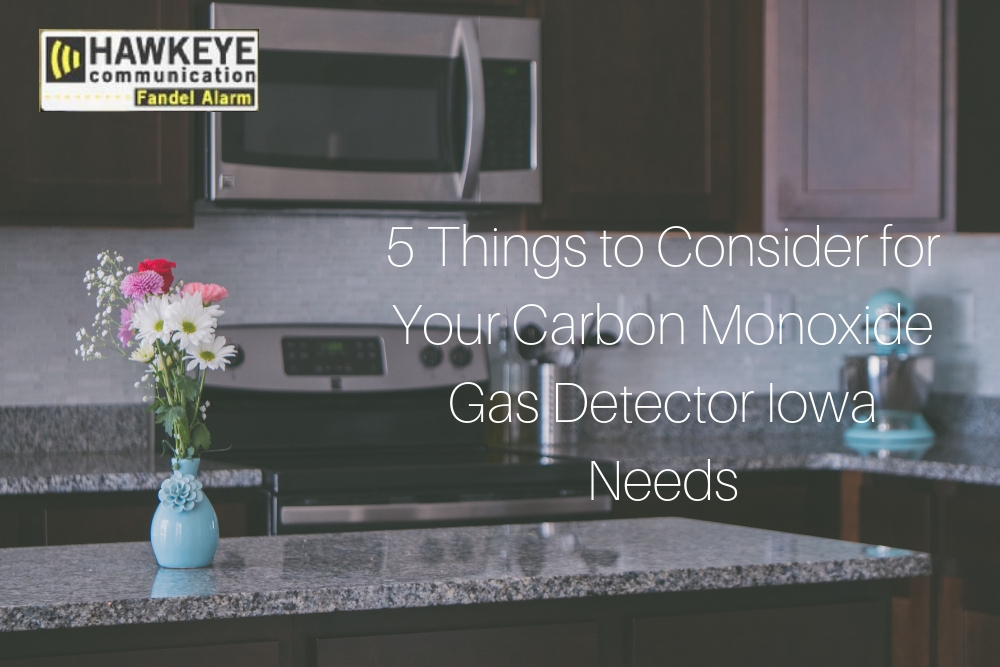 Many of us use natural gas in our homes for heat, cooking, and warm water. However gas leaks can cause carbon monoxide build-up, which is EXTREMELY DANGEROUS!
The State of Iowa understand this matter. Thus, whether or not you are using natural gas, it is NOW A MUST for you to have a carbon monoxide gas dector Iowa, today.
Why is it important to have a carbon monoxide Gas Detector Iowa?
Carbon monoxide is easy to miss at first because it's:
Colorless
Odorless
Tasteless
Nevertheless, this invisible gas is highly flammable. This puts you and your family in utmost danger.
At Hawkeye Communication, we understand the value of choosing a high-quality carbon monoxide gas detector Iowa that checks all the boxes. If your Iowa home still needs a carbon monoxide detection system, consider the following things before completing your purchase:
1. Alarm Design of Your Carbon Monoxide Gas Detector Iowa
CO detectors come in many forms, such as combustible gas detectors and carbon monoxide detectors. The key factor to keep in mind when choosing your system is that it sounds an effective alarm.
Did you know that not all carbon monoxide gas detectors make a sound?
Some of them only have a blinking light to alert you that something's wrong. For the highest level of safety, choose a system that is loud and can be placed in an ideal local where it can be seen and heard.
2. Lower Explosive Limit (LEL) of Your Carbon Monoxide Gas Detector Iowa
All gases need a certain amount to ignite, burn or cause an explosion - this amount is known as the lower explosive limit or LEL.
Most carbon monoxide detectors that are ideal for Iowa homes have heated metal oxides, which lower the combustion temperature of combustible gases. When this happens, gases burn at a lower temperature and in lower amounts.
Detectors will raise the alarm when enough of a gas is present to reach the LEL. Your detector is designed to tell you that the gas is reaching a dangerous level and the risk of fire and poisoning is reaching a critical point.
3. Location of the Carbon Monoxide Gas Detector Iowa Inside Your House
Gas detectors will only remain effective if they're placed in ideal locations. Your detector should be seen, heard, and able to detect a potential leak. For this reason, it's best to let the professionals handle it.
The team at Hawkeye Communication is composed of life safety experts who know the best locations for carbon monoxide detectors. We're happy to visit your home in Waterloo, Cedar Rapids, Iowa City, or Cedar Falls to give you an estimate!
4. Environmental Factors
Many homeowners are unaware that environmental factors can throw off their detectors and cause it to sound a false alert. Cigarette smoke, for instance, can cause your CO detector to sound unnecessarily. Humidity, which is present during every Iowa summer, can also influence your alarm system.
Before purchasing your system, ask your installation team about the system's sensitivity level.
5. Regular maintenance requirements
Most carbon monoxide detectors are battery operated or depend on a battery backup system. Your system most likely has a test feature that will let you temporarily activate the alarm to see if it's working.
Get Your Carbon Monoxide Detector Iowa Installed Today
Why hesitate? There is no time to wait!
It has been mandated by the State of Iowa for your own safety. It is now time for you to act.
Carbon monoxide detection is a threat any time of the year, especially during the winter season. Safeguard your homes from this invisible killer when running generators, heaters, and furnaces. Let the team at Hawkeye Communication install your carbon monoxide detector in any of the following cities in Iowa:
Cedar Falls

Cedar Rapids

Iowa City

Waterloo
Call today to receive a free estimate!
Tags: