5 Things to Know Before Buying a Home Security System
June 8, 2018 at 9:00 AM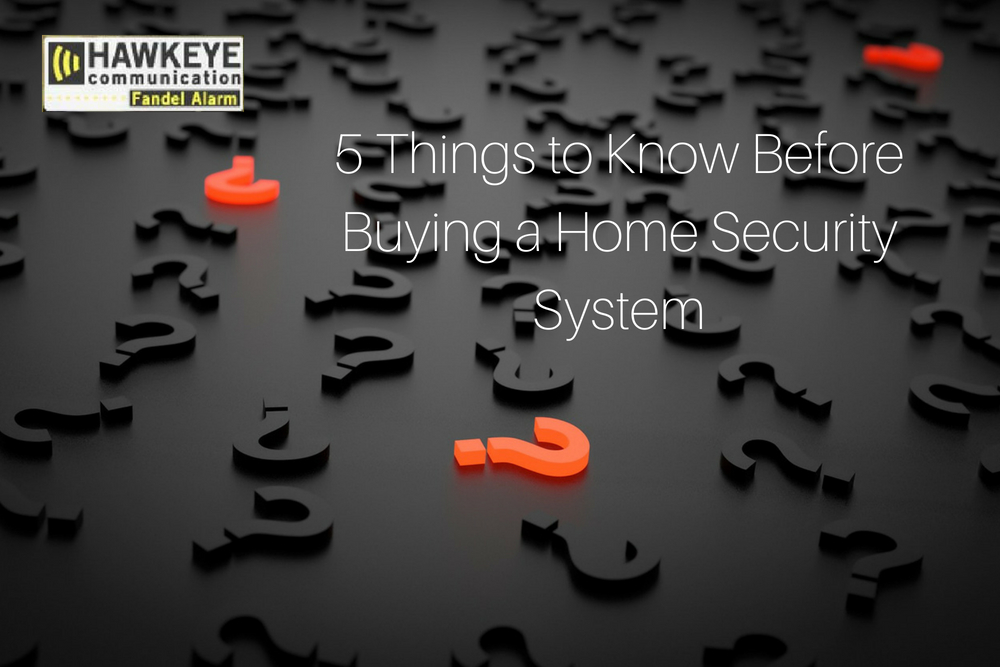 In the United States, a burglary takes place every 18 seconds. Since more than 2 million homes are left vulnerable each year, that leaves a lot of room for your family to become a victim.
It is well-known that home security systems deter potential burglars from completing the job, but that doesn't mean information on systems is readily available.
At Hawkeye Communication, our security technicians work around the clock to keep you protected and your home secure. We believe in engineering custom home security systems that work for your routine and family.
We'll teach you the basics, how to operate your system, and what you can do to maintain an optimal level of home security.
We'll happily visit your home in the Cedar Falls, Waterloo, or Cedar Rapids to give you a security evaluation, but here's what we want you do know before you invest in a home security system:
1. Burglar alarms are different than home security systems
There are several differences between burglar alarms and home security systems that you should know.
Burglar alarms are the traditional sensors placed on doors and windows that alert you (and law enforcement depending on the settings) when an intruder has broken through. While this is beneficial, a Honeywell home security system offers comprehensive solutions such as fire and carbon monoxide detection, flooding notification, and remote access.
2. Security systems continue to run even when the power is out
Here in Iowa, we're well aware of severe weather that can wreak havoc on power lines, so we need systems that will continue to run when the power goes out. Your Honeywell security system will operate during a storm or power outage so you don't have to worry. Are you going on vacation this summer? Rest easy knowing your system will be just fine if a storm comes while you're gone.
3. Home security systems don't cost a fortune
Don't feel like home security is out of your reach because of budget restrictions. Even with a limited budget, you can create a comprehensive home security system that will cover all your bases.
Choose from options such as home automation, video surveillance, exterior lighting, motion detection, and more. Just ask and we'll work with you.
4. Installation is customized
No two homes are exactly the same because no two families are exactly the same. The installation process for your home security system will depend on the type of system you choose, how many aspects you want to cover, and your personal routine. You get to decide how much security you want, so the installation process varies.
5. You get 24/7 support
At Hawkeye Communication, we don't believe in leaving you high and dry. If you have questions about your security system after we've installed it, simply give us a call and we'll help you. We also offer routine maintenance to ensure your system is running as it should.

As a homeowner in the Cedar Falls, Waterloo, Iowa City, and Cedar Rapids area, you can receive help from our team. Let our experienced security technicians evaluate your property and come up with a customized solution for you. The best part is that we'll be there to support you. Should you need us any time of the day or night, give us a call and we'll address your home security system concerns right away.
Tags: