5 Ways Honeywell Protects Your Commercial Property
May 4, 2018 at 12:53 PM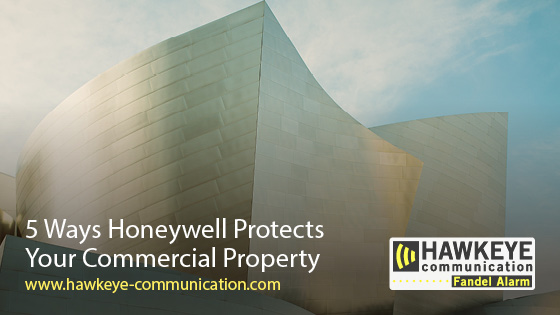 The security threats that are facing your business today call for new solutions. Combining the right technology with comprehensive security solutions is the best way to protect your facility and staff members. 
Honeywell security manager is part of Honeywell's Intelligent Building initiative. It works to provide real-time access and control of security systems throughout your properties now matter how complex. If you have a warehouse in Cedar Rapids, an office in Waterloo, and a building in Cedar Falls, Honeywell works to provide you enhanced security and faster response times to each location. 
Let's take a look at 5 ways Honeywell protects your commercial property with their security manager systems. 
1. A Comprehensive Growing Solution
A piecemeal security system benefits no one. Honeywell focuses on giving you security protection from all angles. The security manager is scalable over time, which means it grows as you do. Use anything from a simple photo id system to a blanket solution with 2,000 readers on each server to keep your employees safe. 
2. Photo ID Capture
Honeywell's security manager has visitor management capability that can be integrated with access control systems, which means you controls who goes where on your property. Capture photos and signatures any time you need them using one database for cardholders and one for photo id badging. 
3. Video Manager
No matter the size of your commercial property, using video surveillance is the easiest way to up your game. Honeywell security systems come with digital video manager capability, which means you can access cameras connected to your local area network at any time. 
Your video clips will be stored in a digital database for easy access. You can even search for them using event-based terms. Honeywell video surveillance improves efficiency and speed of response for your peace of mind. 
4. Integration Capability
Do you currently have a security system or elements of one that you're not ready to replace? Honeywell's security manager can be integrated with legacy systems and most popular third-party credentials and readers so you don't have to recreate the wheel if you don't want to. 
5. Unlimited Data Solutions
Honeywell's security manager puts all the data you could possibly need at your fingertips. Data and displays are accessible from a single window and are designed to function at any workstation that has Microsoft Internet Explorer. 
Take advantage of your ability to: 
Monitor and control one or more of your buildings via any onsite or remote computer

Use intuitive navigation to access menus and toolbars

Restrict specific stations at your Cedar Rapids or Waterloo locations

Control sign-on and function times

Receive real-time security breach information via pictures and sound at every station
Hawkeye Communication is a team of commercial security experts that serves the Cedar Rapids, Waterloo, Cedar Falls, and Hiawatha areas. We specialize in creating comprehensive security solutions that meet your needs, keep your staff members safe, and protect your commercial interests. 
Whether you're actively seeking new security solutions or you're ready for an upgrade, we're here to help. Give us a call today and we'll give you a free estimate! 
Tags: