6 Ways to Prevent a House Fire According to an NFPB Certified Team
May 2, 2018 at 10:17 AM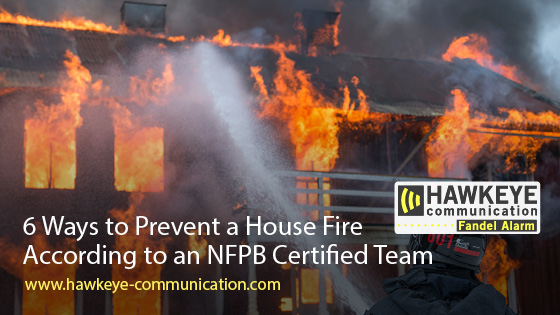 There's no question that property loss due to fire is one of the most devastating things that can happen to a family. Not only is it a terrifying time that could result in the tragic death of a family member, but it also means that many of your belongings and memories are destroyed in the process.
Fortunately, there are several steps you can take to prevent a fire in your home. 
Install smoke alarms
The first thing you should do is install smoke detectors in each area of your home. If you're not sure where to place the fire alarms, speak to your local home security expert such as Hawkeye Communication in Eastern Iowa. Don't forget to change the batteries twice each year to ensure the alarms stay active. 
Maintain basic safety standards
Most homeowners know the basic rules of fire prevention such as not leaving a burning candle unattended and keeping a working fire extinguisher in the house. Make sure you and everyone else in your home are following these basic safety tips. 
Service your heating system
The most advanced fire detection system in the world won't help you if you're not following simple home safety practices such as having your heating system inspected and serviced by a professional. Have a heating expert inspect your chimney, wood-burning fireplace, and furnace annually to ensure it's not a threat to your home.
Remove dryer lint
Removing the lint from your dryer after each use is important in preventing unnecessary fires. The vent to the outside of your home should also be cleared by a professional team. You can opt to do this once or twice a year to maintain your safety and prevent potential fires.
Invest in a carbon monoxide detection system
While smoke detectors alert your family of a potential fire hazard, carbon monoxide detectors alert you to the presence of carbon monoxide gas and prevent carbon monoxide poisoning. These detectors should be installed on each level of your home and can be done by your local security expert such as Hawkeye Communication. 
Work with an NFPA certified company
The National Fire Protection Association is a global nonprofit organization that is dedicated to eliminating death, injury, property, and economic loss due to fire, electrical, and related hazards. A home security company that maintains an NFPA certification is given the information and training necessary to prevent loss. 
Hawkeye Communication has your family's safety in mind, which is why we work with only top-quality residential fire alarm systems. We're happy to help you implement a life safety system as well as a fire escape plan that everyone in your home can follow. The truth is that a lot of residential fire losses are preventable and we would hate to see that happen to you. 
As a security and life safety company serving the Eastern Iowa area, we happily integrate your fire detection system with your home security system. We take pride in being members of the NFPA and would enjoy helping you improve your home's safety by designing, installing, and maintaining the perfect fire prevention system for your home. 
Tags: