7 Certifications that Prove Hawkeye Communication is Great for Your Residential and Commercial Security Needs
September 27, 2018 at 8:00 AM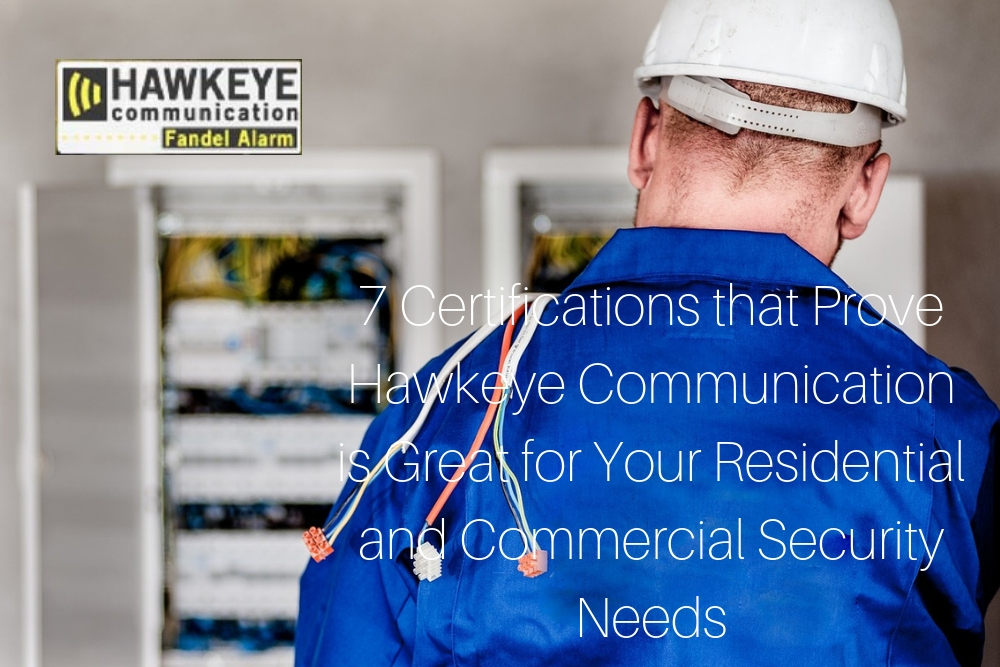 As a residential and commercial security team, Hawkeye Communication takes our work very seriously. Over the years, we've worked to maintain some of the highest standards in the security industry.
Our team maintains high service standards as well as a variety of certifications you should look for in any commercial or residential security provider.
Let's go over the rundown!
1. Alarm System Contractor and Installer Certification
Security businesses in Iowa that install alarm systems are required by the state to have an alarm system contractor and installer certification.
This ensures that a security team like Hawkeye Communication follows building codes, installation regulations, and more when adding security solutions to your home or business.
2. Electronic Security Association (ESA)
The Electronic Security Association or ESA is the largest trade association in the United States representing electronic security and life safety industry.
As a member of the ESA, we're approved to install, integrate, and monitor:
Intrusion

Fire and CO detection

Video surveillance

Electronic access control systems

Commercial security systems

Residential security systems

Industrial security systems
The ESA has provided us with training, information, advice, tools, and services that have allowed our team to grow over the years and become local experts in our field.
3. National Fire Protection Association (NFPA)
Fires can happen anywhere. Whether a fire takes place in your home, warehouse, or commercial building, the results can be devastating.
At Hawkeye Communication, we take pride in our NFPA certification because it keeps us on our A-game for fire safety. The NFPA publishes more than 300 codes and standards that are intended to minimize the possibility and effects of fires and other risks. We follow those standards to letter to keep your family and staff members safe.
4. National Institute for Certification in Engineering Technologies Level II and III (NICET)
To be as beneficial to you as possible, the team at Hawkeye Communication engineers custom security systems for your home and business.
Our certification through NICET proves we have the knowledge of the components, operating characteristics, and limitations of engineering systems and processes in the security industry. Speak with us regarding your security needs. We'd be happy to come to your home or commercial property in Waterloo, Cedar Falls, Iowa City, or Cedar Rapids to give you an estimate!
5.  Maxxess Certified
Maxxess focuses on delivering:
Multi-application security solutions

State-of-the-art protection

Optimized and efficient services

Increased productivity

Creating cooperative environments
Businesses certified through Maxxess look beyond traditional security methods. By holding this certification, we affirm that our team is organized, efficient, and coordinated.
6. Honeywell Authorized Dealer
Honeywell is a security company that focuses on providing high-quality, innovative products perfect for the home, commercial space, or industrial setting. The best part is that everything they design is created with the modern consumer in mind.
Not only do you get quality security products when you work with an authorized Honeywell dealer, but you also have access to Total Connect - a program designed to make managing your security system a breeze!
7. Lutron Certified Dealer and Installer
Residential and commercial security solutions are about more than video surveillance, sensors, and alarm systems. While those are all important components of your security system, your security solutions shouldn't stop there.
Security goes hand in hand with automation services including:
Light controls

Whole home solutions

Single room solutions

Integration and connectivity

Energy savings (commercial and residential)

Shading solutions
Give Us a Call
If you're looking for top-quality commercial or residential security solutions in Waterloo, Cedar Falls, Iowa City, or Cedar Rapids, give the team at Hawkeye Communication a call today!
Tags: