7 Simple Ways to Maintain your Video Surveillance System in Iowa
March 31, 2019 at 11:00 AM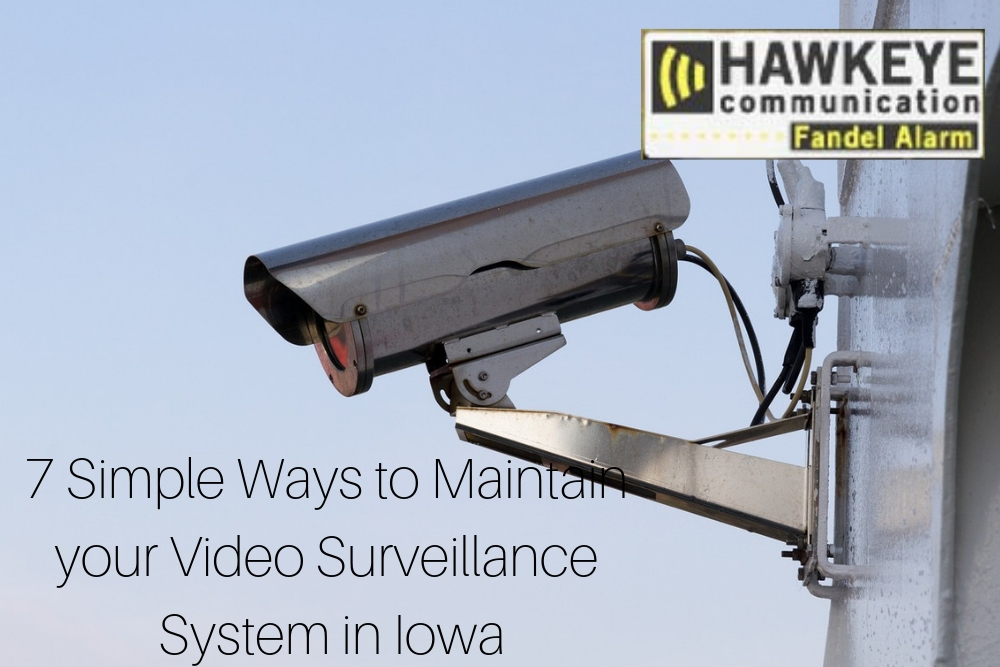 A video surveillance system is a valuable tool in ensuring the security of your home or your business establishment. It is a long term investment and asset, that is why you need to make sure it is well maintained.
Here are 7 of the most simple ways you can do to guarantee that your system is giving its best performance:
#1. Always EXAMINE your Cameras for signs of Corrosion and Damages.
Always inspect your video surveillance cameras for possible damages. You should do this for both the inside and outside areas of your camera because both are not exempted in damages. Outside cameras are prone to rust while inside cameras can have scratches from pests like rats.
If there are any lenses that are near breaking, replace it immediately. This will help you avoid problems in the future.
#2. CLEAN your Camera Lenses
Dust will most likely accumulate with your camera lenses in Iowa, especially those that are located outside of your premises. Ensure to these camera lenses are clean so as to avoid blurry images.
To do this, use a microfiber cloth because it helps in preventing fewer scratches.
#3. Polish your NVR or DVR
Network Video Recorder (NVR) or Digital Video Recorder (DVR) gathers dust and dirt after some time. Dust and dirt accumulated by your NVR or DVR can get inside and create static images. This can even cause your recorder to not work properly.
Always wipe it by using a dry microfiber cloth. This is effective in removing dust and dirt NS ensures your NVR or DVR is running in good condition.
#4. Always CHECK the Position of your Camera
Sometimes the position of your surveillance camera adjusts unintentionally. Always check the position of your cameras to ensure that it still captures the correct and intended area. Adjust if necessary. Make sure that all cameras are still firm in its place and it is not too loose.
#5. INSPECT Camera Housings
As your cameras are prone to rust, the camera's housings are also prone to the same damage as well. Even if the manufacturer says it is weatherproof, you can not just leave it all alone.
Carefully inspect if it is showing early signs of corrosion, rust, dirt, and leaks.  Replace it immediately as needed. Moreover, check if the glass or plastic dome crystal still clearly captures images and videos.
#6. CHECK Your CABLE Connections
Always check your wires to ensure that your cameras are recording properly, especially the wires installed inside the ceilings. Rats can pester your wires resulting in damage.
Frequent checking on your cable connections can limit possible problems. If you see any open cuts, replace it if it still possible or fix it as soon as you can.
#7. MONITOR Video Recordings Frequently
Frequently monitor your recordings to ensure that your security cameras are still recording properly. If you suspect that there is a problem, fix it right away. If you do not do so, you might find that no video was recorded when you need it.
Video recordings are important especially if there is a crime that happened in your area because these videos can be used as a reference. Thus, it is important to regularly monitor your recordings, This ensures your cameras are serving its purpose.
These may sound and look simple, but these will most certainly help maintain your video surveillance system the easy way. Always make sure to update your system to ensure your security! Talk to us.
Tags: