7 Tips To Keep Your New House Safe From Crime
March 22, 2019 at 11:00 AM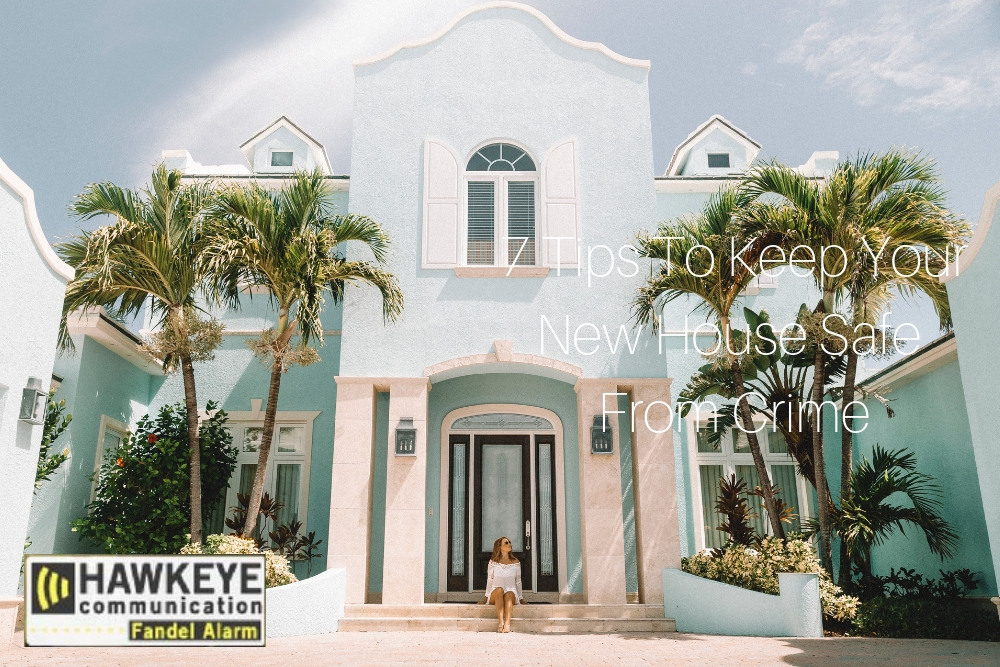 Moving into a new house? It is really exciting to think of right?! However, we still need to consider the welfare of our new home because sometimes, even the safest community still encounters some random crime.
In a report from Safewise, robbery happens almost everywhere in America for every 15 seconds. Sadly, most of these crimes occur in residential areas.
Jeez right!
With these things to keep in mind, we recommend to keep your house protected even when moving in as one of your top priorities.
How do you execute these? Here are some tips to consider:
1.

Change your locks as often as possible
Often times, this little detail is overlooked by homeowners as they go on with their day to day routine. However, you should change all your locks as soon as you move into your new house because this can definitely save you from unexpected intruders, especially for those who have managed to get a duplicate of it.
So don't take chances, change your keys or number lock codes often. Hire a reputable and trustworthy locksmith to redo your house's entire locks as soon as you move in.
2.

Set-up an Alarm System
Installing an alarm system is one of the best ways to protect your home from burglary and other crimes. Thus, before moving into your new home, contact someone who can install a security camera security system for new abode.
If you wish, you may even set up signs and stickers so everyone knows that you have a security system installed in your new home. This will act as an deterrent to anyone who may be thinking of entering your premise without permission.
3.

Set up Lights and Tv's Timers
You might not believe it but leaving your TVs and lights on can prevent thieves from barging into your house. When your TVs and lights are on, the thieves will think that someone inside your house is still up. This can prevent them from doing their crime.
It is a fact that no thieves want to be caught right? Setting up your TV's time to go on and off, and timed lights near the window and is recommended especially when you are away during holidays. There are electrical timers that can be bought at home improvement stores. It will create an illusion that someone is at home.
4.

Install a Video Doorbell
Ringing the doorbell to check if someone is at home might be one of the oldest tricks in a thieves book, but it is still somewhat popular among them. Good thing for us is, there a now advance technology doorbells that can make it look like you are home even if you're not. Installing a video doorbell that allows you to see, hear and even talk to who's at your door from any place is surefire protection for your house.
5.

Conceal Your Mail When Away
When you are out of town, mails and packages could file up. This situation makes your house vulnerable from burglars because it is a visible sign that no one is at your home to pick up the mails and packages.
So if you are planning to be away for a couple of days, the first option is to ask a trusted neighbor to pick up the mails and packages at your front door. You can make an agreement with them on how you can repay them. You can even return them the favor when they are away. Otherwise, you can ask your local post office to hold your mails until you get back and pick it up yourself from them.
6.

Establish A Motion Detector Lighting System
Motion Detector Lighting around your premises adds a sense of protection to your house and your family - most especially at night. If thieves and burglars will attack when it's dark, they will be quickly discouraged because of the lights on their movement. It is recommended to install motion detector lighting in the front and back your yards. Also on the places where it will be easy to hide like gardens.
7.

Always Landscape Your Yard
Grab your grass cutter! Overgrown fences and shrubs is a place to hide for thieves. Large hedges near a window give the thieves a chance to sneak in a house unnoticed by neighbors and passerby. So trim your tall bushes and shrubs. By the way, It is suggested to plant thorny bushes near windows as well as gravels on the ground to deter criminals from hiding from it. Loud crunching sounds when someone steps on the gravel will prompt you to check if there's any activity.
Safeguarding your new home before moving in is something you should not for sake. Protection of our home and our family must be our number one priority. Make sure to make your home a crime protected area as much as possible.
Tags: