9 Reasons Why You Should Choose Hawkeye Communication
August 15, 2018 at 8:00 AM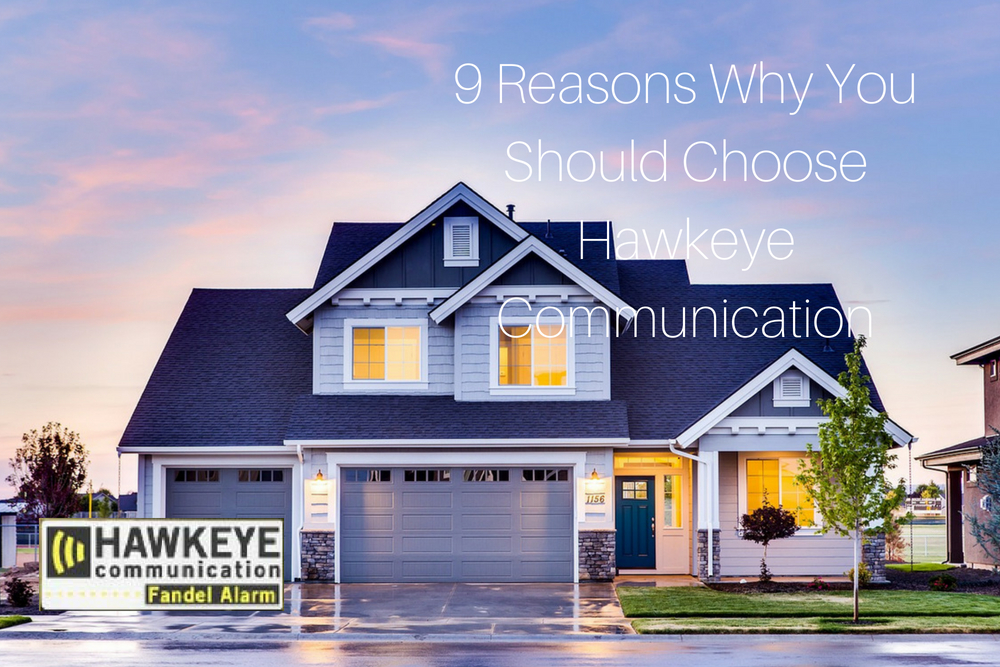 Trusting the safety of your family and staff members to a fire alarm and security company is no small feat. If you're located in Waterloo, Cedar Falls, Cedar Rapids, or Iowa City, you can count on the professional team at Hawkeye Communication.
Hawkeye Communication has been providing eastern Iowa with commercial and residential security service for over 50 years. We require all of our staff members to achieve the highest level of training and give them the resources they need to be the knowledgeable team you can rely on.
At Hawkeye, we know that no two business or homes are the same, which is why we engineer customized security and alarm systems for you. We take pride in gathering as much knowledge about our industry as possible.
Take a look at all the certifications we've attained over the years:
1. State of Iowa Department of Public Safety
You need a security team that's on top of their game. Whether you're installing a fire alarm or carbon monoxide detection system, you should choose a business that's certified by the State of Iowa Department of Public Safety.
Rest assured that as an alarm system contractor and installer certified through the state, we know how to install efficient systems correctly.
2. Member of the Electronic Security Association
Providing you with top-quality security solutions is about knowing our stuff. As a team that's a member of the ESA, you know we've been through training, seminars, and courses designed to make us experts in commercial and residential security technology.
3. Certified through the National Fire Protection Association
Being certified through the NFPA puts us a step above other fire alarm companies in the area. The NFPA sets high standards for security teams who hold their stamp of approval.
4. NICET Certifications Level II and III
The National Institute for Certification in Engineering Technologies is the global leader in providing recognition to qualified technology professionals. At Hawkeye, we know how important it is to engineer a fully customized security system for your business or home. For this reason, we hold Level II and III certifications from NICET.
5. Maxxess Certified
Maxxess is all about providing innovative security solutions to homeowners and business owners like you.
Hawkeye Communication holds this certification because we believe in the importance of using affordable state-of-the-art technology to keep your employees and family members safe.
6. Gamewell FCI
We know that lives depend on our security systems, which is why we became certified through Gamewell FCI.
Gamewell is a part of Honeywell Security and Fire and works to be a manufacturing leader in:
Fire alarm control panels

Life safety systems

Voice evacuation systems

Mass notification systems
Whether you are an educational facility, healthcare facility, or industrial factory, we'll ensure you have the cutting edge technology you need to meet the highest standards.
7. Honeywell Authorized Dealer
Honeywell is a company dedicated to technology developments and making a difference. As Iowa's only Honeywell Authorized Security and Fire Dealer, we can provide a level of security and comfort that others can't. Plus, Honeywell systems are easy to use and access!
8. Lutron Certified Dealer and Installer
Access control takes your home security and energy saving to the next level. Even if you don't travel much, you can still benefit from having Lutron home automation tools in your home.
Trust the team at Hawkeye Communication to use Lutron products to help you achieve:
Lighting control

Shade control

Temperature control

Security solutions
9. Custom Engineered Security Systems
Your security system is supposed to keep your family members and employees safe. What works for one home or office building might not work for the next. This is why Hawkeye Communication engineers custom security solutions for all of our clients.
Conclusion
Whether you're in Cedar Falls, Waterloo, Iowa City, or Cedar Rapids, you can count on the team at Hawkeye Communication to meet your security and safety needs. Call today to schedule an estimate and to discuss your individual business needs.
Tags: