Audio and Video Solutions for Your Business
February 16, 2018 at 10:04 AM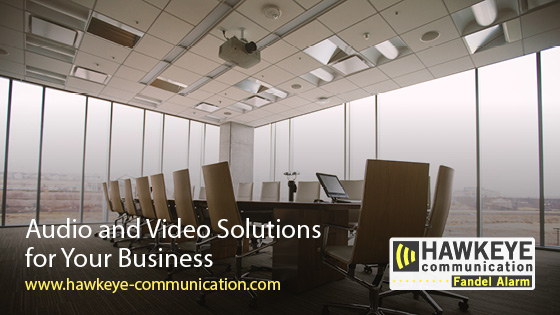 Having an audio/video system that operates at peak performance can be the difference between impressing a potential investor or business partner and losing the opportunity. In these technological days we live in, it's important to have a modern edge over your competitors and give your business the chance to run as smoothly as possible. 
Upgrading your audio and video technologies is one of the easiest ways to improve your business. Investing in audio and video systems gives your employees the opportunity to create, run meetings smoothly, and impress your clients. Instead of using old, outdated technology that is slow and laggy, consider what the team at Hawkeye Communicate has to offer. 
Digital signage
How would you like for your business to be seen from a mile away? This is possible with digital signage! Digital signs can be used to display content including digital images, streaming media, video, web pages, weather data, restaurant menus, and text. This means it can be as small-scale or large-scale as you want.
Often seen on the outside of businesses, digital signs can increase traffic to your business since they're so large and create brand awareness. Digital signs are great for business promotion, providing your customers with information, and enhancing your presence. 
Conference room video and sound systems
How would you like to add an element of elegance to your business? You can do that and a whole lot more with improved conference room video and audio systems. Kiss the days of blurry and outdated displays and poor audio quality goodbye. 
Adding a new high-def screen to your conference rooms will take your business to a whole new level. Display important statistics, promotional videos, and presentations on crystal-clear screens. Do you need to present a new video to your team members? No problem! With custom conference room video and sound systems, your content will look and sound great.
Small and large-scale audio
Virtual meetings will be a breeze with small and large-scale audio upgrades. Whether you need a few high-quality speakers that will make hearing your out-of-office teams easier or you need a full-scale overhaul on your overhead systems, Hawkeye Communication has you covered. 
Executing corporate meetings or events that need to engage a crowd with audio is an important aspect to running your business. Creating audio projection that grabs your audience is what we do. 
White noise
Maintaining your office's privacy is important, which is why we specialize in white noise services. Not to be confused with noise cancellation, white noise leads to more productive workers, fewer workflow errors, improved ROI, better acoustics, and enhanced privacy and security. 
Open offices can sometimes be too quiet. When this happens, you'll hear the sound of someone walking by or the coffee brewing in the other room, both of which can be distracting. Open offices can benefit from white noise since the sound improves concentration and blocks outside sounds. 
Hawkeye Communication values your ideas and business needs. We take pride in creating solutions for your business problems, whether they be audio or video related. If you're in the Cedar Rapids or Waterloo areas and know your business could benefit from some audio and video overhauling, give us a call today.
Tags: