Benefits of Door Access Control System and Keyless Entry Card Acces System For Your Business In Waterloo and Iowa
May 9, 2019 at 11:00 AM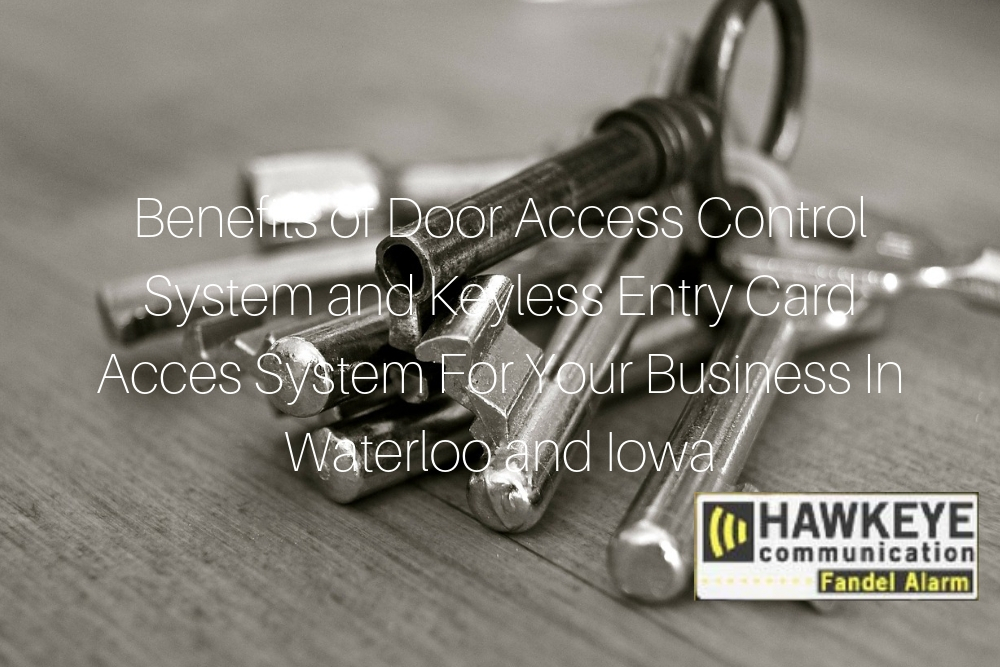 Security is one of our most top priorities, whether we talk about home safety or business safety. The demands in security are endless.
Nowadays, door access control systems and keyless entry card system are gaining popularity in property owners, building managers, and small businesses. These security systems offer an increased level of safety access to buildings, offices, and property. On this article, you will see why these access control systems is a must-have.
Old locks are now a boring thing! As they are old and easily broken. An access control system keeps unauthorized persons out of the premises. Remote access is one feature of the system any facility can have a benefit. Traveling to a door to open for access is removed through this system.
Here are benefits you will get from these access control systems.
No Memorization Is Needed
Memorizing can be a hassle at times. Especially if you have a lot you need to remember. With these access systems, memorization of codes are slashed out. Keyless entry card access system removes the worry of remembering codes. It allows you to gain entry with just a card. As long as you have the electronic key you shall be able to enter an area or room with no problem.
This is helpful if a business has a dozen staffs.
No Need For A Constant Key Change
With the old locks with keys, tendencies of key and lock changing are inevitable. It is time and money consuming. This problem is taken away by these access control systems. This is handy in various cases.
For example, one of your employees has resigned, recollecting their access cards are no longer needed. You can just simply block them from the system. No need to change locks too.
These access control systems can be remotely controlled through a central monitoring system. Through computer software, you have the power to grant or limit access to certain individuals in specific areas.
Difficult to Open
Manual old locks are easily picked by trespassers. With the use of access control systems, this worry is removed. Electronic access is hard to penetrate. The only way an intruder can break in is if they can remove the access strip on the door which is troublesome.
Cards cannot be Copied
Copying cards with an access control system are paradoxical because of its complexity. With this, you don't need to worry about unreturned cards. Once you deactivated their card they won't be able to use it again.
Keep Access Records
Access to specific areas is recorded every time an employee swiped their cards to gain entry.
Your access control system can track, detect, and record it. No need for log-ins and outs. This way, monitoring your premises and people is easier and faster.
It can also help you prevent potential theft and monitor suspicious activity.
Maximum Security Feels
With the use of door access or keyless entry card control system, you'll feel well secured about your business. An elegant, refined, and tech-savvy access control system can put your business and your mind at peace.
Possibilities are Endless
The access control system has endless things you can do. You can customize it the way it would fit your security needs.
You can use door access to limit entry.

Use the system to set limited specific persons to enter certain areas.

You can easily cancel a card's access with just a few clicks on the computer

You can customize different card's functions
See? These are just a few of the things you can do with your access control system.
Hopefully, this list of benefits of using a door access control system and keyless entry card access system for your business has enlightened you. If you need assistance in securing your business, contact us!
Tags: