The Benefits of Lutron Motorized Shades
January 15, 2018 at 11:27 AM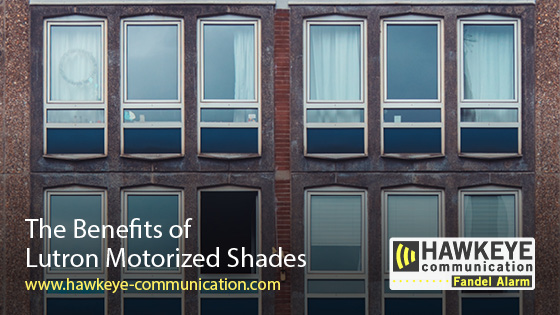 Lutron shades are popular window treatment and lighting solution that is used for both commercial and residential properties. They are preferred by many people because of their high-quality light control properties, stylish look that accentuates any décor and their wide range or motorized options that suit different tastes and preferences. Lutron shades are designed to offer precise light control during the day through the touch of a button. They offer numerous benefits that include;
Saving energy
Motorized shades allow you to save additional energy beyond the regular shades uses. Additionally, Lutron offers a wide range of electrical and motorized shades. For instance; winter warm opens up your shades and allows you to enjoy sun warmth from the south. Summer cool does the direct opposite by lowering shades and blocking excess sun heat with the aim of reducing your cooling costs. Also, Lutron shades are made from sustainable materials that ensure environmental and energy savings. 
Ambiance and elegance
Lutron motorized shades are designed to bring out your decors visual appeal while working effectively. This is achieved by choosing the right fabric that is then designed to offer stylish lighting control with the help of innovative technology. So, you elegantly transform your space to produce the right amount of light to ignite any activity. For beautifully balanced windows, the shades are aligned precisely.
Convenience
Managing natural light should not be restricted to a single part of your home. Lutron shades are controlled using different keypads, wireless tabletop controls, IR remote controls or are set to a clock that adjusts the shades automatically. 
Security and safety
Lutron motorized shades allow you to utilize one shading system for your entire home. So, you can control the shades in different parts of the house simultaneously. For instance, if you are leaving the house, you simply select away, and all the shades will close or drop to a certain level that constrains the view inside your home. 
Protect furnishings and reduce glare
The shading systems are designed to diffuse much light while preventing glare from washing out your television or computer screen view. The shadings also protect your furniture, wood surfaces, fine art pieces, wall hangings and rugs from fading or getting damaged as a result of the sun's UV rays. The shades keep your home comfortable and esthetic during all weather conditions; warm in winter and cool during summer through harnessing and deflecting solar heat respectively. 
Tags: