Benefits of The LYNX 5200 Touchscreen Burglar Alarm System
September 28, 2016 at 3:47 PM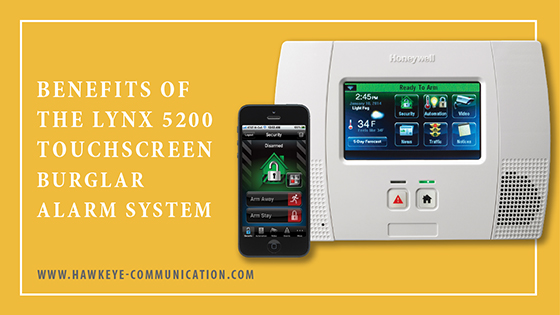 The need for more robust security systems has led to the innovation of high-end and efficient security systems such as; Lynx 5200. Lynx 5200 is a well-rounded business and home security control system that has user-friendly features. It was designed by extracting ideas from the most widely used standalone wireless security platform, streamlining it and adding a video on the 4.7-inch touchscreen. With this feature, you can easily install Honeywell's Total Connect IP video cameras per installation. 
User-friendly features
The greatest benefit of using Lynx 5200 is it's easy to use interface. It features a 4.7-inch graphic touchscreen that is easy to use and understand. It's easy to pick out the icons you want to use. The system navigation is menu driven and uses accurate and quick programming. Moreover, it features two dedicated keys; one for easy home screen access and another for emergency functions access. 
On and off premises video viewing
Lynx 5200 offers an integrated live video feature that pops up on demand. But the system supports a single camera that is displayed on the touchscreen. This means that you can view your house or business premise anytime via the on-premises video feature. The only drawback is that it works with products that are compatible with Honeywell Total Connect Video. You can control the system from an Android or iOS device from anywhere including within the premise.
Smart home integration
Lately, home security and smart homes go hand in hand. This is because products like Lynx 5200 feature an integrated Z-wave that ensures you have control and integration of every part of your home. This includes; water valves, sirens, door locks, thermostats, lighting, scenes, automatic, local and remote control through Honeywell Total Connect. This means that you can lock your doors, switch lights on and off and control thermostats among other household items from any location. 
Time-saving features
Lynx 5200 takes that extra security level via the two-way voice feature. The system is easy to install and less costly to maintain. This is a characteristic that encourages all homeowners to invest in the home security system. The system applies the breakthrough Wi-Fi alarm communication technology. The Wi-Fi technology should be secured with passwords to ensure maximum security for your home or business premise. The two-way voice over Wi-Fi feature ensures that there is no wire pulling, drilling, and mess during installation and usage. 
Though not all benefits are discussed above, Lynx 5200 offers a broad range of home security and home automation benefits that are ideal for every homeowner. The remote control of garage and security doors is a rare feature that offers home security at another level. The garage door function supports up to 3 entries per security system. It also provides a family message center where users can record messages they wish to leave for family members. So, if you have some home security or automation needs, consider looking up Lynx 5200.
Tags: