The Benefits of Upgrading Your Home with Automated Lutron Blinds
February 23, 2018 at 10:52 AM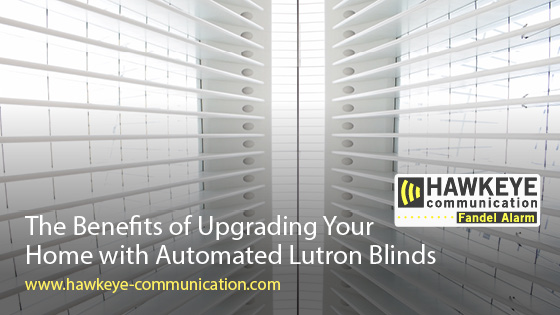 Lutron has made a name for itself with its motorized and automated blinds. Both residential and commercial customers turn to the brand because of its high-quality light control, stylish look, and range of motorization. 
If you're in the market for some new blinds or you're ready to take the plunge into the automated world, we highly recommend Lutron blinds. 
But, you don't have to take our word for it. Let's look at some other reasons Lutron blinds are highly beneficial for your home. 
1. Affordable Prices: Lutron knows how to offer motorization for less. Because they offer a number of options for motorization and electrical shades, you can find whatever it is you're looking for, and you'll pay a reasonable fee when you do. Some of Lutron's systems run on D-batteries, which last between three and five years, so you don't have to worry about frequently replacing batteries and shelling out the cash for them. The brand also offers remote-controlled options that run off of a single set of batteries. Pretty impressive, right?
2. Control the Light in Your Home: Clearly one of the best things about motorized blinds is that you can control them without having to get up off the couch or out of your comfy chair. The benefits go beyond comfort, however. Lutron blinds give you the feeling of a smart home without all the cost. Take their Hyperion Solar-Adaptive Shading System, for instance. This system can be programmed to adjust itself throughout the day as the sun moves. Even if you're not home, the system automatically reduces glare, protects furniture and floors from harmful UV rays, and improves your home's energy efficiency. 
3. Save on Energy Costs: This is hands-down the biggest reason homeowners turn to Lutron blinds. The blinds and shades they offer improve daylight autonomy, maximize the amount of natural light you have in any room, and reduce the need for electrical light during the day. If you look into getting the programmable honeycomb shades, you'll notice that they offer an extra layer of heat protection, which regulates room temperature and keeps your AC unit from kicking on as much.
 Who said that automatic or motorized blinds have to be ugly? No one here! Lutron blinds come in roman, roller shades, honeycomb, vertical blinds, and drapery system options. The shades are offered in fabrics that range from sheer to complete light blocking, therefore the light diffusion is customized to your needs. The textile-based window treatments such as drapery and roman shades are available for custom orders - enjoy browsing the 1,500 fabric choices listed in the Lutron library. 
Adding customized Lutron shades to your home has many benefits. Considering you have complete customization when selecting your blinds, we know you'll be satisfied with them. To speak with a professional team regarding the best kind of motorized and automated blinds for your home, give the team at Hawkeye Communication a call. We'd be happy to go over your options, answer your questions, and take care of the installation process.
Tags: