The Best Features of Honeywell Home Automation
March 7, 2018 at 10:07 AM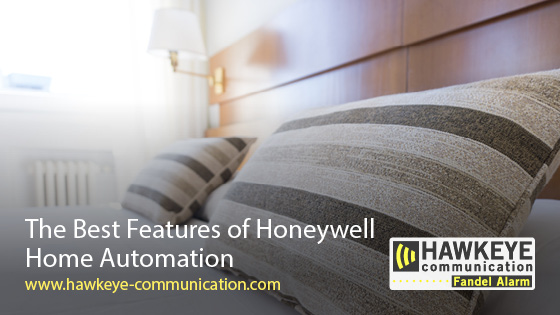 Home automation services have been around for a few years now, but that doesn't mean every homeowner is getting as much from their system as they should. Systems from renowned companies such as Honeywell let you control the lighting, temperature, and security of your home, which puts you closer to a smart home than ever before. 
In the early years of automation, simple things such as monitoring the temperature were considered luxury. Now that security systems have become more advanced, there are so many more things you could be doing to get the best bang for your buck. 
If you're on the fence about investing in an automated Honeywell security system, here are the top 5 advantages you should consider:
1. Increased security. No more worrying about whether you've locked the door when you're running late. The ability to lock and unlock your door through your smartphone is one of the biggest reasons to invest in home automation. Not only will this feature give you peace of mind, but it will bump up your home's security. You can also set your system up to let you know when someone enters your home, especially when you're not there.
2. Enhanced safety. Some systems give you the ability to control the small appliances and lighting in your home. You'll no longer have to worry about your small appliances or lamps being left on all day with your Honeywell system.
3. Major convenience. Let's face it, smartphones rule the world because they're convenient. You have unlimited information, images, and digital content at the tips of your fingers all day, every day. It makes sense to connect your home security system to your phone so you can reap all of the benefits that automation has to offer. Your smartphone will let you control the security features of your system as well as the blinds and thermostat.
4. More time. Life moves quickly in our modern world. Sometimes our schedules are so jam-packed that we don't have time to stop for coffee along the way. As a result, we hardly have the time to worry about our homes while we're away. Home automation gives you some precious time back because it will make sure everything is in order for you. When you leave in the morning to drop the kids off at school, you won't have to worry about coming back to your house to make sure everything is buttoned up for the day. Your system will do it for you!
5. More money in your pocket. Once your system is up and running, you'll start to receive one of the biggest benefits it has to offer: savings. Your system gives you the ability to control the lighting in your home through dimming and on/off options. This way, you can manage the temperature in your home, which saves you money on utilities. You can also automate the thermostat so your heat and AC runs efficiently. 
6. You have an authorized dealer. Hawkeye Communication is a certified dealer of Honeywell systems, which means we know them inside and out. We'll help you figure out how to get the most out of your system based on your lifestyle and needs. We'll even show you how to setup the automation so you'll be ready to go as soon as the system is installed. Give us a call today to get started!
Tags: