Cases of Fire in Iowa this 2019: Why You Need a Fire Alarm System
July 18, 2019 at 9:00 AM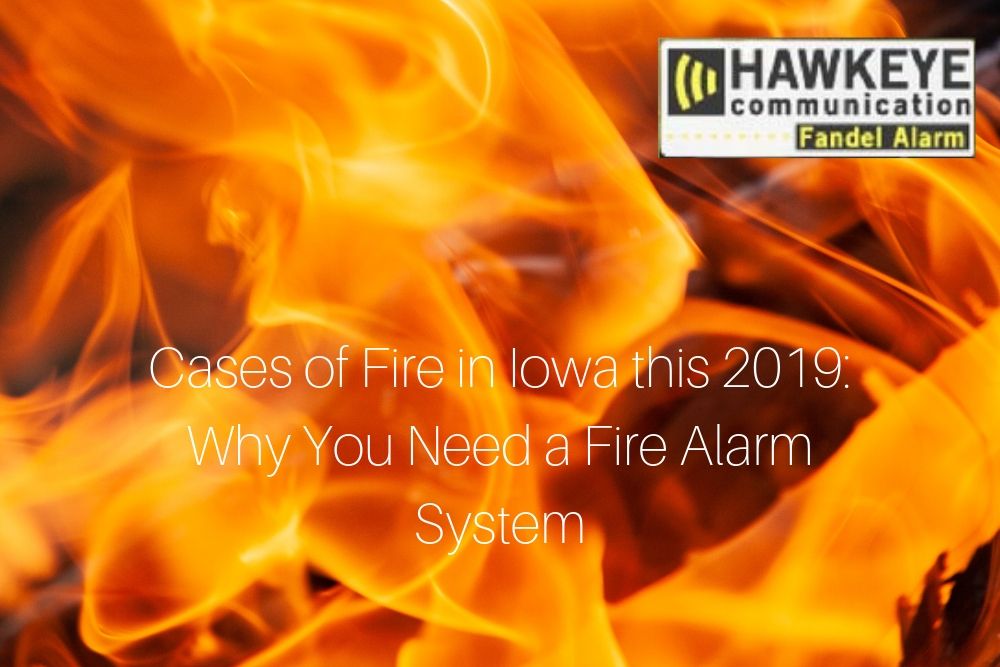 Fire, when talking about calamities, is one of the deadliest. Its smoke alone can already kill someone. That is why, nowadays, more and more people are investing in a fire alarm system, especially in Iowa.
However, for those who think they still don't need one installed in their homes and offices; then here are some fire cases reported for this year alone.
A mother had a 2nd-degree burn while her 7-year-old boy died In Oskaloosa
The fire escalated quickly in an old single-house turned apartment at 515 High Ave. East of Oskaloosa. The mother got a 2nd-degree burn while trying to save her son from the fire in the houses' basement. Unfortunately, her son died due to his injuries from being trapped in the basement. The heat and smoke from the fire were extreme that it needed 24 firefighters to suppress it.
Source: https://www.desmoinesregister.com/story/news/2019/02/16/oskaloosa-fire-boy-dies-iowa-mother-burned-trying-save-son-angelia-wells-david-fogle-mahaska-county/2890355002/
A firefighter died in a grain processing plant in eastern Iowa
In a grain processing plant in eastern Iowa, a firefighter died while conquering fire. An explosion in the plant was reported to the fire department. This fighter had been in service for 12 years yet he still met death because of fire. The cause of the explosion still remains under investigation.
Source: https://www.desmoinesregister.com/story/news/2019/01/05/iowa-firefighter-dies-explosion-fire-eastern-iowa-clinton-department-archer-daniels-midland-grains/2491439002/
Basement fire at West Burlington
At West Burlington, the firefighters received a call at 1:55 a.m regarding a house fire. They've met a heavy smoke from that single house upon arrival at 2:08 a.m. the fire was coming from the basement. Thankfully, the homeowners were able to make their escape once they've been alerted by their smoke detectors. They got out alive unharmed.
These are just some of the fire cases in Iowa that already happened this year. If you can see the difference between the first two cases with the last case, the last case has survivors with no injuries. Their home's smoke detector has helped save their lives.
Source: https://www.thehawkeye.com/news/20190605/fire-damages-home
Conclusion
This shows why installing a fire alarm system - may it be at home, school, office, or any other establishment is very significant for safety. It is not just a fancy decor into your walls aesthetic but it turns out to be an actual savior. It helps save lives, investments, and assets.
Investing in fire alarm systems may not come as cheap as you want at first but take a look at the deeper purpose. Fire cases such as the ones mentioned above do not only burn down what you've worked hard for but most especially - it takes lives.
If your home is not yet partnered with a fire alarm system, call us now. We're here to help. Don't wait until it's too late to for protection. Remember, prevention is and will always be better than cure.
Tags: