Choosing the Right Audio and Video Equipment for Your Home Theater
July 12, 2018 at 3:09 PM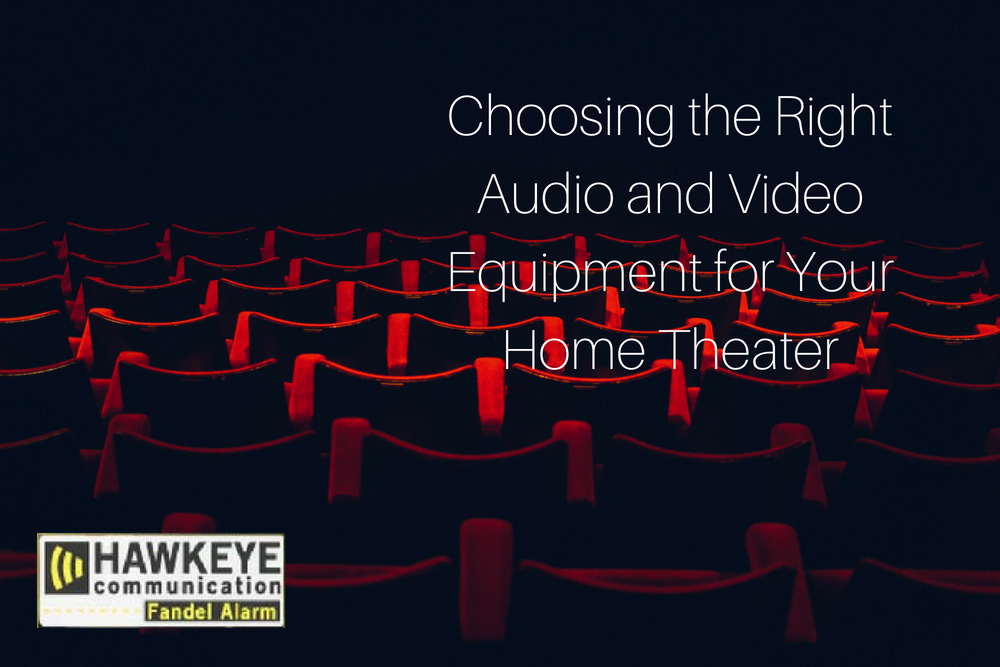 No home theater room is complete without high-quality audio and video equipment. After all, if you're creating a theater room, you might as well go big or go home, right?
Hawkeye Communication is here to help you design the perfect home theater that your whole family will enjoy. Since we know a thing or two about audio and video equipment, we'd like to pass that knowledge on to you so you can make informed decisions when designing your theater room.
Here are some tips and tricks for choosing the right audio and video equipment for your home theater room project:
1. Pay attention to acoustics
Having a projector that creates a beautiful picture is important, and loud booming sound effects are grand, but the most critical part of every movie is the dialogue. If you can't hear the dialogue, you can't keep track of what's happening and that's a quick way to ruin your movie night.
Before you start collecting audio and video equipment, you have to make sure it will work well in your room. This is where acoustic treatments can make all the difference. Acoustic treatments will make even average audio equipment sound great, so don't underestimate the power of some basic panels.
2. Surround Sound Systems
For a fully immersive experience that will have you thinking you're in a traditional movie theater, we recommend surround sound systems. At Hawkeye Communication, we prefer installing speakers from renowned brands such as JBL Audio and Elan Home systems because you get the biggest bang for your buck.
When designing your theater, we'll help you determine the right number of speakers, placement, settings, and more.
3. Additional Speakers
Surround sound isn't achieved with one single set of speakers. To get the best sound, we recommend using a variety of speakers including channel speakers, sub-woofers, and side speakers.
When your theater room has speakers coming at you from all angles, you'll be sucked into the story in no time.
4. Focus on Your Front Speakers
Don't get too focused on sub-woofers. We recommend spending a good amount of your audio budget on at least three main front speakers. These speakers, especially the center channel speaker, are more important because that's where most of the dialogue will come through.
5. Picking the Right Projector
The screen is the most important part of your entire theater room because you guessed it, that's where you'll see the movie!
Screens can be an investment, but don't skimp on them. The really good screens start at $3,000 whereas decent ones start at $1,800. If you've got the wiggle room in the budget, we recommend investing in a higher-end screen since it will be worth your money.
Conclusion
Bringing your home theater ideas to life is fun, so why not let the team at Hawkeye Communication join in? We're happy to help you with any home audio and video questions you have. Give us a call today to receive a quote.
Tags: