Five Benefits of Protecting Your Office with Access Control
March 27, 2017 at 1:53 PM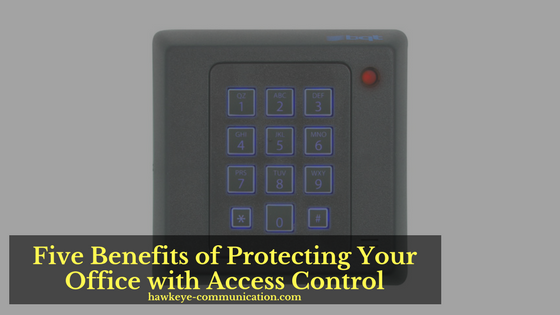 For decades, office access control systems have been thought of as a tool that lets only authorized staff members into an area or building. Today, many people still think of access control systems in these terms, though in truth, advanced access control systems now feature many benefits and functions that are overlooked. Unlike traditional security, access control systems help businesses and organizations increase operational efficiency. Access control systems also help reduce costs by working with a wide variety of other security systems.


Below are five major benefits of protecting your office with an access control system:


1. Access control systems are easily integrated

Access control systems from renowned brands like Honeywell offer state-of-the-art commercial access systems that make integration easy. Honeywell systems feature innovative software that easily integrates the most advanced security technologies on the market. What's more is that these systems also feature networking capabilities, which means you'll enjoy full-fledged security solutions in any size facility.


2. Most systems can be managed on the web

In an effort to be as user-friendly as possible, most access control systems on the market offer web management. Being able to manage your system online makes using these systems highly effective and secure.

Honeywell access control systems feature a server/workstation based system as well as a convenient light browser that allows you to manage daily functions. What makes such systems convenient for business owners is the fact that the total cost of ownership is reduced due to the fact that you are not required to have full client workstations. Honeywell systems also let customers manage their system using any standard web browser, making them highly convenient. You'll even be able to interact with the software on your iOS or Android mobile browser, which means you won't have to go to the office to update a setting.


3. You can get web access control starting at one door

Other systems on the market may require you start at a minimum of four or five doors, but Honeywell access control systems allow you to have web-based access starting at only one door. Simply put: these systems are scalable. Add doors as your business grows or leave it at one – you have the freedom to choose.


4. Easily pull reports with your access control system

The user-friendly design of Honeywell systems makes them simple to install and pull reports easily. With their browser-based interfaces, you'll experience a short learning curve and training time as well as the ability to pull a report whenever you need it. Simply log on and you're ready to go!


5. You'll enjoy a reduced support cost

Because Honeywell access control systems are easy-to-use and manage, you won't have to worry about constantly calling the support team. Honeywell systems were developed with business owners in mind meaning they were developed with installer-friendly designs that easily adapt to IT methods and infrastructure. As long as you have access to an internet browser, you'll enjoy logging on easily from the office or elsewhere.
Tags: