Getting Connected to Your Home Honeywell Tuxedo Touch
November 3, 2017 at 9:06 AM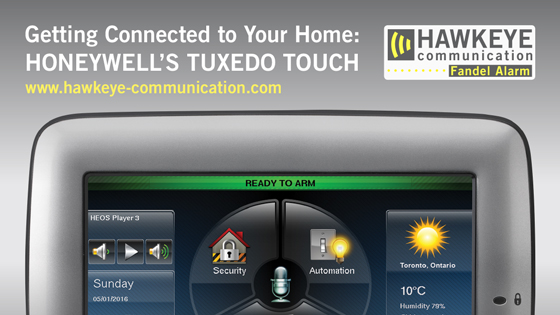 How would you like to turn your house into a smart house without dropping the cash to do it? The best way to do this without spending an arm and a leg is to take advantage of the Tuxedo Touch feature that comes with your Honeywell security system. 
With the Tuxedo Touch, you can have the lights and temperature at the perfect level every time you enter your home. Would you like to get a video alert when your kids get home from school? With Tuxedo Touch, these things are possible - and it's all at your fingertips!
Perhaps you invested in a Honeywell security system to save money in the long run or because you wanted to ensure your family's safety (most likely both), Honeywell's Tuxedo Touch is guaranteed to work with your lifestyle even as it changes. 
Once your Honeywell system is installed, speak to your custom electronics professional about everything you need to know. They will have the knowledge it takes to show you how to conserve energy, maintain security, and save even more money with your system.
"Connected Home solutions and programmable thermostats can reduce energy costs up to 15%." (U.S. Department of Energy)
In these modern times, one of the best things we can do for the earth is to limit our energy use. With your Honeywell security system, saving energy just got easier. For instance, you can use the Tuxedo Touch feature to automatically adjust your thermostat or to turn your lights on and off. Translation: no more stopping to adjust the thermostat in the morning before you leave for work! And the best part is that you'll start to see the results on your energy bill, which is sure to boost your savings and comfort level. 
Here are some additional things your Tuxedo Touch can do for you:
Ensure your family's safety - If you had smoke, fire, and carbon monoxide detecting systems in your home before your Honeywell security system was installed, you don't have to start over. Save money by connecting your Honeywell system to your detecting systems.
Get maximum security - With remote video monitoring and remote control access to your alarm system, you don't have to worry about a thing. Your system installer will show you how to get the most out of this control, so be sure to ask questions if any pop up.
Reduce your environmental footprint - Did you ever do the footprint calculator exercise in middle school or high school where you calculate how many earths it takes for you to maintain your lifestyle? Maybe you laughed a little bit at this silly exercise, but as adults, we see the consequences of our actions. With your Tuxedo Touch, you can control the lights and temperature of your home all in an effort to be more environmentally conscious. You can also connect your system to door locks and more. 
Get automated - With your Honeywell system, your home can be as automated as it gets. Use the touch system to adjust settings for your blinds, lights, thermostat, and more, from your web-enabled devices.
Tags: