Getting the Lighting and Shading Solutions You've Always Wanted
February 14, 2018 at 10:15 AM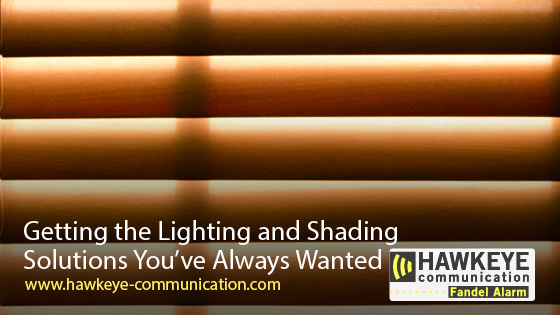 When it comes to getting the lighting and shading services you want, there's nothing better than working with a certified Lutron dealer. Lutron products give you the flexibility and control you want plus the energy savings everyone loves. Choosing a certified Lutron dealer will ensure you get the installation and service you need. 
Shading solutions help you control the daylight in your home which in turn affect your heating and cooling costs. The main goal is to make your space more comfortable, but how do you get to that point? 
Shading solutions
Daylight is beautiful for so many reasons. It allows us to see colors and finishes in their true form. It can lift the spirit of any room and reduce our need for electric light. Lutron shading systems can save energy and utilize daylight at the touch of a button. 
As we become increasingly aware of our environmental footprint, it's important to embrace practices that conserve energy. When you invest in a Lutron shading system from a certified dealer, you'll receive a smart system that will block out solar heat and bring in the warm southern winter sun. The best part is that Lutron shading fabrics are made from sustainable materials.
Are you worried about what your shading system and controls will look like? Don't stress. Lutron controls are designed to look gorgeous and work like a charm. The stylish control and fabric options will allow you to bring in the right amount of light for any activity. With your Lutron system, you'll receive several convenient control options from a single wall station to keypads, IR remote controls, wireless tabletop controls, and automatic features. 
Lighting solutions
Like shading systems, Lutron lighting systems are designed to save you energy and money. Automatic lighting systems can improve the quality of your home's lighting no matter the room. Choose from single room lighting systems that are ideal for heavily trafficked areas to dimming and total lighting management. 
Have you ever thought about how much the lighting in your home impacts your heating and cooling systems? When there's too much lighting in a room, extra heat is generated, which means your AC unit will run more. Dimming the lighting in your home or setting it to automatically turn off will help control the temperature in your home. 
Working with a certified Lutron dealer
When you work with a certified Lutron dealer, you'll work with an entire team that knows the systems by heart. Whether you're in the Cedar Rapids area or in Waterloo, Hawkeye Communication is here to provide you with personalized energy solutions and top-notch services. 
Your system will be catered to your family and lifestyle so you don't have to actively think about temperature, energy savings, and constantly adjusting your systems. Not only will we take care of the installation process, but we'll also be there for you when you need service. Let us come check on your system so you can maintain your home's comfort and energy efficiency levels. 
Tags: