A Guide to Safe Travels
December 4, 2017 at 10:10 AM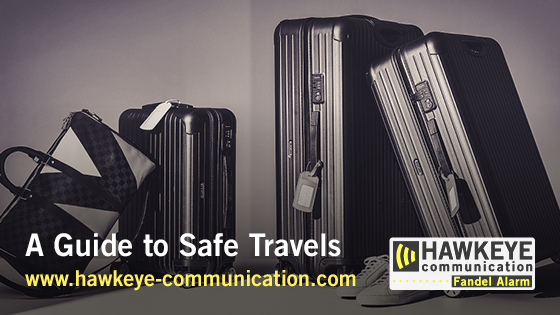 Who says road trips have to be so chaotic you want to rip your hair out or so boring you'd rather watch the grass grow? Whether you're packing the family up for a holiday visit or a fun summer destination, there are some things you should do to stay safe and prepared so you can have fun.
Let's start with the things you should bring on your road trip. 
Road trip essentials
License and registration: You keep these with you at all times anyway, right?
Vehicle manual: Most of us leave this in the glove compartment, but it can come in handy if you need to adjust your seats or a dash light comes on that you've never seen before. 
Spare tire: Have one that's in good condition at the ready. 
Tire pressure gauge: Even if you're making a short drive, it's a good idea to make sure your tires are in good shape. Should you need to stop to fill them up, you'll be prepared. 
Extra cash: Not everyone accepts cards, and you never know when you might need to make an emergency stop somewhere. Keep an extra stack of funds with you just in case.
GPS: Even if you've been to your upcoming destination a hundred times, it never hurts to have GPS capability. You never know when you'll be detoured due to construction, flooding, and road closures. You can download apps such as Maps and Google Maps (make sure to update them whenever you get a notification), but you can't always rely on a signal. If you're not one to take chances, swing by your local gas station for a new atlas.
A good backpack: Hikers know the true value of having a bag you can rely on. Whether or not climbing mountain trails is in your near future, bring a high-quality backpack along. You'll be tossing items in and out of the car, so invest in something that can take the jostling.
Cooler: Snacks and beverages are a must for any road trip. Even if your destination is close, you could run into a traffic jam due to an accident or construction. Worst case scenario is that you're sitting in a bumper-to-bumper situation for a couple of hours. With food and drinks in the back, you'll be prepared for when the munchies attack!
First aid kit: If you decide to go without any of the other items we mentioned, please include this one.
What to do when your car breaks down
Obviously, there's no ideal time to be stuck on the side of the road, but there are some things you can do to prepare for it in case an accident or breakdown were to occur. To prevent the situation from going to bad to worse, follow these common sense tips:
Relocate: Depending on what's wrong, you'll probably be tempted to make repairs where you are, however, a busy highway is not the best spot. Move the vehicle to safety, somewhere out of the way, and then get out of the car. If another driver was involved, motion for them to follow suit.
Place a phone call: If your car is damaged to the point where it won't move or it just won't run, stay put and call for emergency help. Stay out of the way of oncoming traffic. Should you break down in an unsafe area, call the police, stay in the car, and keep your doors locked until help can get there. 
Plan ahead: Stock up on reflective triangles, flares, and flags that will mark your location during an emergency. Don't forget to turn on your hazard lights so other drives know what's going on. 
Keep the essentials: Jumper cables, a tire pump, heavy-duty rope, gloves, warm blankets (for winter breakdowns), a flashlight, and that first aid kit we mentioned earlier are must-haves. 
Tags: