Home Control and Energy Management with Tuxedo Touch
November 29, 2017 at 10:09 AM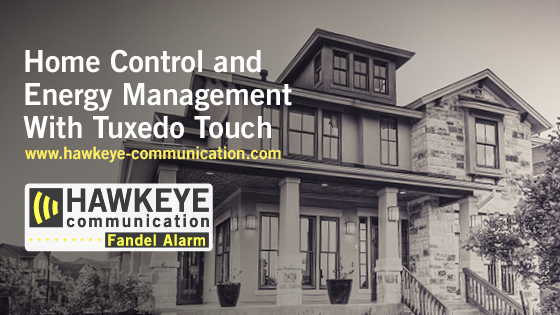 Most homeowners have endorsed home automation systems because of their ability to provide home security and save on energy bills. Honeywell Tuxedo Touch home security and automation system offers these two crucial smart home elements. The system is designed to ensure comfort and convenience as you save on monthly expenses. 
Home control and energy management with Tuxedo Touch
Thermostats
Tuxedo Touch features customized scenes that allow you to manage energy consumption in your home. It controls Z-wave enabled thermostats. So, you can set the system to adopt and alter the thermostat to operate in line with temperature changes. You arrive home from work to a well-set thermostat and the perfect temperature to relax after a long day. The thermostats adjust automatically each time you activate or deactivate your home automation system.
Lighting
With Tuxedo Touch, you can activate your home's lighting in a snap. It allows you to customize lighting scenes for convenience, security, and comfort. Meaning that whether you are home or not, you can create lighting scenes to imply you got home from work, carried on the daily duties and finally get to bed. This is a major security feature that can prove helpful when on vacation and you do not want neighbors to know you are not home. Also, you can have the lights dim when watching a movie or setting a romantic dinner. Just like the thermostat, the lights adjust automatically once the system is activated and deactivated. 
Locks
Lock and unlock your doors and windows from the Tuxedo 7-inch touchscreen. The security system allows you to set a locking and unlocking schedule that locks and unlocks doors at certain times of the day. Thus, you can unlock your front door when your kids are about to get home from school, lock the door when the plumber leaves the house among other instances. 
Shades
For people who enjoy ambiance, Tuxedo Touch allows them to operate Z-wave enabled shades. The shades are programmed to raise and lower at specific times of the day. So, you block the sun to avoid unnecessary heating in your home which can incur additional energy costs. 
Scene setting
The Z-wave technology allows you to set scenes that happen regularly. For example, you can set the lights to turn on and off at different times of the day or better still respond to the sun. So, outdoor lights turn off automatically when the sun rises and turn on when it sets. Honeywell home automation system also features motion sensing technology that can be used to secure your property and set a scene. For instance, if you wake up at night and walk into a dark corridor, the motion sensor triggers the lights to turn on automatically. The lights will remain on for a predefined duration before going off automatically. 
The home control and energy management benefits offered by this home automation system are endless. You just need to implement your imagination to enjoy the Tuxedo Touch system fully. But, ensure that you are entirely familiar with its interface and user guideline before trying different settings.
Tags: