How to Choose the Right Commercial Security System in Cedar Rapids
June 11, 2018 at 7:00 AM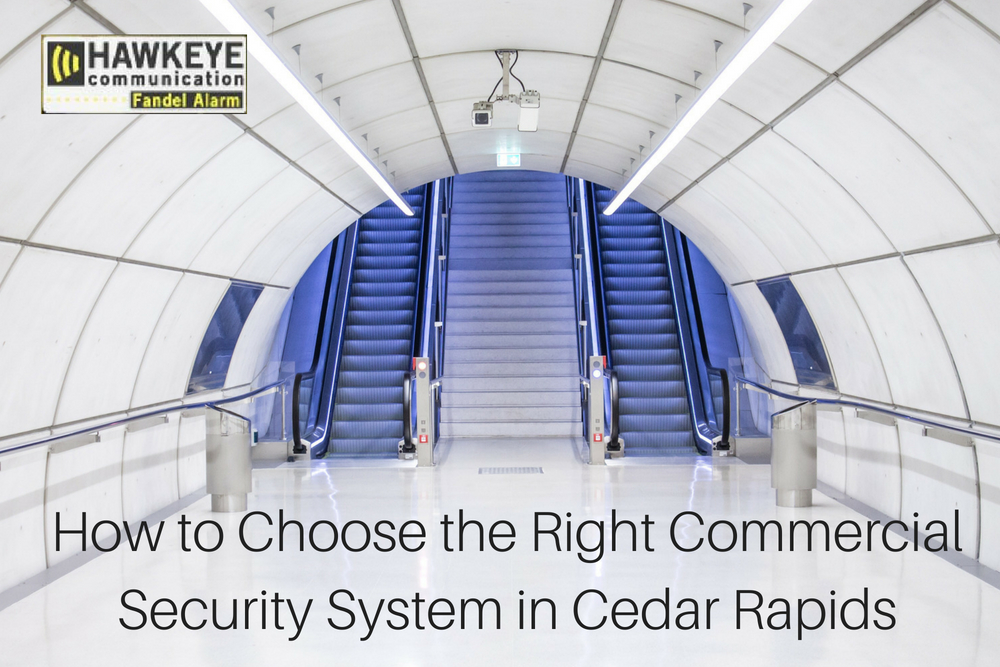 In order for your business to be profitable, you need to protect your assets which means having a commercial security system is imperative to your success.
Video surveillance systems are more intelligent and advanced than ever before. Today, you can control them from afar, adjust as your business expands, and integrate multiple components.
How would you like the ability to call the police the moment something suspicious takes place on your property? Camera systems now have computer-like functions and features such as motion sensors and automatic mobile notifications that deliver a message to your smartphone when something happens.
Are you a small business owner in Cedar Rapids, Waterloo, or Cedar Falls? Don't think such video surveillance systems are out of your reach. You have access to powerful systems at affordable prices, so protecting your property is easier than before.
The key is to work with a commercial security expert that can customize your system to your business. Hawkeye Communication engineers systems to fit all of your commercial security needs, be it small or large scale.
When choosing a security system for your business, we'd like you to keep the following things in mind:
1. Multiple benefits
There's no question that video cameras deter most criminals from going through with their crimes and give law enforcement the upper hand when tracking down someone who did commit a crime.
Your video surveillance system will also improve your employees' accountability since it will monitor productivity. You can also save some money on your insurance premiums, so what's not to love about that? We believe your peace of mind is well worth the cost.
2. Camera type
Did you know that more than one kind of security camera exists? You can find systems that use internet protocol (IP) or analog cameras. IP cameras are modern and are a bit more expensive. Analog cameras are lower resolution and are more traditional. IP cameras are more powerful than analog and shoot in footage between 1 and 5 megapixels, which is very high resolution. They also have a wider range of motion compared to analog cameras.
3. Recording resolution
Each of the cameras in your system needs a video recorder to transmit and archive footage. The two most popular choices today are DVRs, which offer D1 resolution, which is traditional video quality you see in closed circuit systems. It's the standard resolution.
NVRs are top notch because they record in 1080p, which is considered high-definition. The video quality for NVRs is significantly higher, so you'll need to think about what's more important to you: cost or video quality.
4. Outdoor and indoor cameras
Did you know there's a difference between cameras placed inside and outside? Consider placing cameras built to stand up to Mother Nature at entry points around the exterior of your home Then, use indoor cameras to ensure all your bases are covered inside your facility.
Hawkeye Communication is one of Waterloo, Cedar Falls, and Cedar Rapids' premier security experts. We specialize in engineering commercial systems that meet the individual needs for all of our clients. To receive a quote, give us a call today.
Tags: