How to Create a Modern Man Cave
June 28, 2016 at 10:17 AM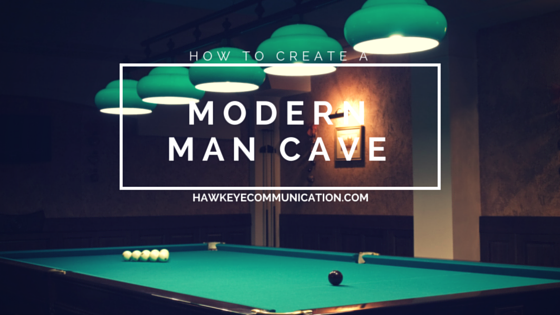 The man cave evokes pictures of jumbled couches, overstuffed armchairs and entertainingly over proportioned TV sets grouped into a dark room. The man cave is an interior design which is sometimes referred to as the absence of interior design. So, if you are considering turning your basement, loft or storeroom into your dream "Man Cave", let's have a look at how home automation can help make a significantly dreamier and more comfortable place. Here are a few thoughts.
A Fantastic Snooker Room

Many people would love to have a billiards table in their man cave.  To keep your table in great shape, the temperature of the room needs to be optimal.  It needs to be regularly monitored and maintained. Temperature and humidity are very important in maintaining the slate under the fabric and keeping it from expanding and harming the playing surface. A temperature sensor in that room can alert you if your room drops below or increases beyond the limits you have set.
A beautiful snooker room, with the perfect television set and some childhood friends, what more could you dream of?

Your Dream Music Room

Maybe you are a music man. An automated music room with ambient light and rocking sound with the push of a button appears to be heaven.  Add an amazing guitar collection, an elegant piano or drum set, a DJ music system and an out of this world audio system and you have perfection!  Let's face it, all of this beautiful equipment comes with a price.  Protecting it with security and optimal temperature is something that should be considered.  

Canadian Classic Den
This man cave with a tasteful layout, incredible leather furniture and a fantastic scotch bar is entirely automated. The moment the doors open, the lights switch on, your favorite music begins to play and the temperature changes to greet the incoming guest. When you want to watch TV, the home automation reveals the TV from a hidden place.  There are no switches on the walls, and the woodwork remains elegant, while the owner controls everything via their remote control, iPad or their smartphone. Motion sensors monitor movement. When there is no activity for a set amount of time, the system automatically shuts everything off and makes the necessary changes to achieve your desired off mode.
The "Man Cave" is a place to get away, relax and enjoy.  Adding some degree of automation can help bring more comfort and enjoyment to the space you have dreamed about and look forward to unwinding in.  There are many ways to add this into your design.  Call us today for help in getting started.
Tags: