How to Keep Your Pets Safe When You're Not Home
March 30, 2018 at 9:35 AM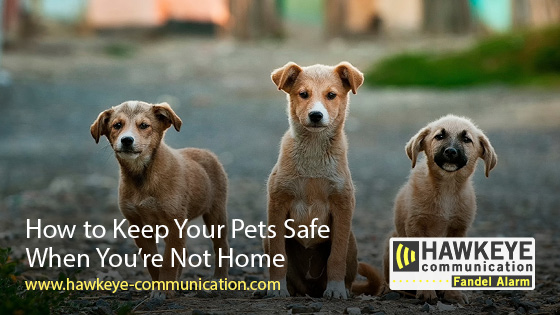 Your pet is your family member, so of course you would take the same steps to ensure their safety that you would for the rest of your family.
It's natural to want to check on your pet during the workday, which is why we came up with a list of five things you can to do ensure your pet is safe while you're away.
1. Use Your Home Surveillance Cameras
Surveillance cameras give you real-time answers if you're questioning your pet's safety. Indoor cameras allow you to see what's happening inside the house and it's all visible from your smartphone. Place some cameras in a few strategic spots to monitor your pet from a distance. 
You can also opt for some microphones and speakers so you can communicate with your pet throughout the day. Unless your pet is causing trouble, they will enjoy hearing your voice while you're gone. 
2. Invest in a Security System
Surveillance cameras are a great start, but they don't offer you everything you need to keep your pet safe. Another great defense for your pet and your home is a quality security system. 
If there is a break-in, you will be notified immediately and so will the police. Most home security systems are deterrents for burglars, so having one will give you peace of mind from the start. Systems from renowned brands such as Honeywell offer wireless connectivity for easy use and access.
3. Monitor the Temperature
Your pet relies on you to keep your home at a comfortable temperature. Don't let the temperature dip too low or get too hot while your pet is home alone. For your pet's health and safety, your home should be kept at a comfortable temperature. Lutron makes high-quality home automation systems that can do this for you as well as let you connect via your smartphone to make adjustments throughout the day if necessary.
4. Install Detection Alarms
The average smoke and carbon monoxide detectors simply make noises to alert homeowners of danger. When the detector goes off, you can go outside and call for help. Your pet obviously won't be able to do this if the alarms go off, which is why we recommend installing monitored fire and carbon monoxide detectors in your home. 
These detectors will make a loud noise when you're home and they will contact the authorities. This way, your pet won't be left home all day with screeching detectors. You should also consider placing a pet emergency sticker near each entrance to your home to notify firefighters and police officers about your pets. 
5. Give Your Pet a Chance to Escape
Installing a "smart" pet door may be the way to go since it will give your pet the chance to escape during an emergency. For example, a smart door will let your pet escape during a fire but it will also prevent intruders from getting in. 
Would you like to discuss your pet's safety with a team of professionals? Hawkeye Communication is a home and commercial security company that looks after the Cedar Rapids, Waterloo, and Iowa City areas. We'd be happy to discuss other ideas and questions you have about your pet's safety. Give us a call today.
Tags: