How Many Contact Sensors Does it Take to be Safe?
February 26, 2018 at 10:07 AM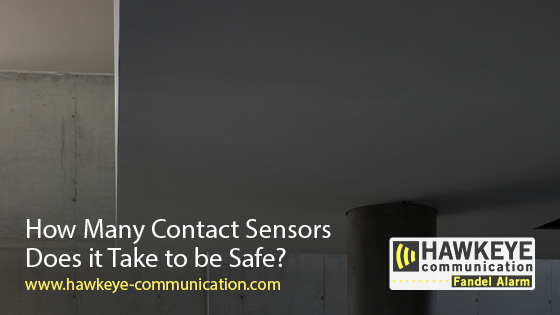 Having a home security system is the first step in keeping your family safe. Fully integrating your system with your smartphone is the next step in running a safe and secure ship. But, have you considered the idea that using contact sensors is the simplest way to upgrade your system?
Contact sensors are small, easy to use, and unobtrusive. Their sole function is to detect the opening and closing of windows, cabinets, drawers, and doors, which makes them invaluable in protecting your family, home, and belongings. 
Often overlooked, contact sensors are essential components of your home's smart security system. You can have all the security cameras you want, but adding contact sensors will make your system more versatile and complete. 
When you purchase a home security system from Hawkeye Communication, our experienced staff will evaluate your home's specific needs. As an authorized Honeywell dealer, our staff members have the knowledge and expertise it takes to determine how many sensors should be used with your system and where to place them. 
Here are some of the common areas we recommend having a contact sensor.
1. The front door. The front door tends to see a lot of activity, which is why a contact sensor is recommended. Placing a sensor there will give you early warning of any dangerous activity.
2. The back door. As Iowans, many of us live in trusting neighborhoods, which is why we take the back door for granted. Whether you have family members or friends who are free to come and go as they please is irrelevant. Your back door should be just as protected as the front. Install a contact sensor here for maximum security.
3. Side garage door. If you're like many of us, you have several valuable items in your garage. Between the grill, your tools, and other equipment that can be hazardous to curious kids, your garage is a treasure trove for burglars. Place a contact sensor on the internal door so you have immediate awareness of anything that is amiss. 
4. Child's door. Is your toddler's room upstairs? Contact sensors can be used for more than security. Place a sensor on your child's door so you'll know if they get out of bed and start wandering towards the steps or landing. 
5. Walkout-basement door. Is your man cave located in a basement that has a walk-out entrance? Yeah, place a sensor here too. Should anyone spot your valuable electronics in your man cave, you'll be alerted to their presence faster than you would without a sensor. 
6. Lower level windows: Most burglaries occur in homes that have unsecured windows and doors, which is why your windows are just as important. With a contact sensor on each basement window, you'll be able to see that they're all safe before going to bed. 
Located in Hiawatha and Waterloo, Iowa, Hawkeye Communication offers Honeywell wired and wireless burglar and fire alarm systems. We love working with customers in the Cedar Rapids, Iowa City, and Waterloo/Cedar Falls areas. Our security systems have the ability to adapt to your life and are designed for flexibility. Call us today to discuss your home security needs. 
Tags: