How To Secure Your Garage Service Doors with ANSI Door Locks
August 20, 2019 at 11:00 AM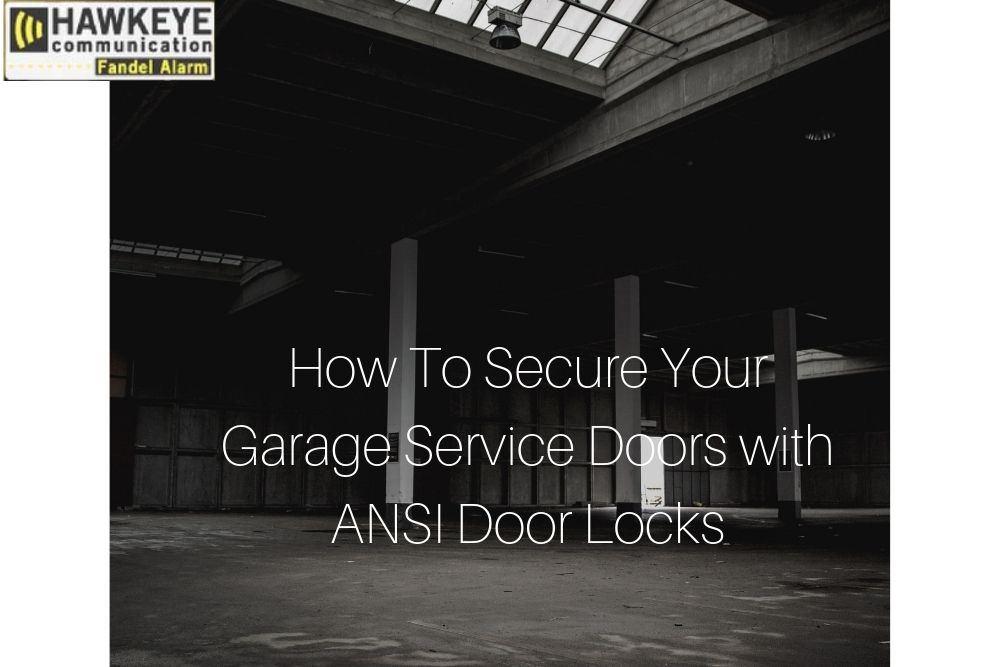 A lot of business owners and homeowners don't realize this that securing your garage door is a must. Here are the facts:
Your garage door serves as the largest entry to your home. No wonder 9% of burglars enter a home through the garage.
With this in mind, it is important for homeowners to ensure that their garage doors are well secured and protected.
Here are some tips on how you can effectively secure your garage service doors.
Get to know your ANSI standards
ANSI or American National Standard Institute is an organization that develops standards, procedures, and guidelines based on the national agreement process. They, too, have set standards regarding door locks and they've come up with three grade types of door locks.
Here's an overview of the three ANSI grade for deadbolts and door locks.
Grade 3 (Good)
This type is intended for properties in residential areas. Compared to the other 2 grades, It provides a minimum amount of security. It can withstand:
For a deadbolt to qualify in grade 1, it must be able to endure at least a 100,000 cycles plus 2 door stikes.
Grade 2 (Better)
This type meets the requirements for most business properties. Knobs that are ANSI grade 2 can endure:
400,000 cycles

4 door strikes

250 pounds weight test
While the ANSI grade 2 deadbolt can withstand:
150,000 cycles

5 door strikes
Grade 1 (Best)
ANSI grade 1 deadbolt and locks are the best type of grade. They offer the highest level of security among the three grades. These type of products meets all the requirement for commercial properties. An ANSI grade 1 knob can withstand the following:
800,000 cycles

6 strikes

360 pounds of weight
While the deadbolt can endure:
250,000 cycles

10 door strikes
Now, let's take a look at the products that can be effective in securing the garage service doors.
Locks and products
Lock reinforcer
This is more of an accessory for locks. Lock reinforcer is a metal sleeve that wraps in the strike plate and the area around the doorknobs. It provides extra security and strength from any tampering. This also comes with deeper screws that bore into the door compared to regular shallow door screws.
Deadbolt and standard lock
For the most, whatever the type of garage - it should consist of at least a deadbolt and standard lock. For deadbolt, you can choose single-cylinder or a double-cylinder type. A single-cylinder can be operated by a key from the outside. It also has a latch that can be opened from the inside. While a double-cylinder must be activated from both sides of the door by a key. It's more secure but can be time-consuming and inconvenient at times.
Handle-sets and lock-sets
Handle-sets and lock-sets types are more secure than deadbolts and standard locks. They can be locked both from the inside and outside of the door. You can consider combining a deadbolt with them to increase the level of security.
Keyless locks
Keyless locks are the result of the advancement in today's technologies. Just like how almost everything can be automated now. Keyless lock models are now considered to be the most advanced security for residential and commercial properties. It has a built-in‌ ‌anti-theft feature. Specific models have rolling codes that can't be used twice. Some have an alarm if a wrong code is being entered.
Most keyless locks can be monitored and controlled through a mobile app. While some can be integrated mainly to the garage door. This type can be a little more expensive than the others but it's worth it in the long run.
For high-quality keyless locks, send us a message.
CONCLUSION:
When it comes to security, your garage door must be carefully considered. Properly securing them with the appropriate locks can heighten the level of your security.
For further information about securing garage service doors and garage doors in Iowa, Cedar Rapids, and Waterloo call Hawkeye Communication/Fandel Alarms. Learn more about us.
Tags: