How to Secure Your Home-Based Small Business
August 3, 2017 at 10:39 AM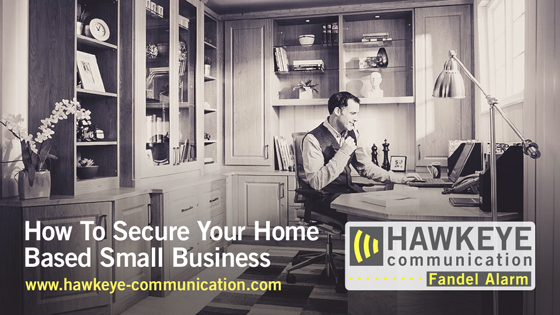 When testing the business environment or starting your side hustle, it is common to start a home-based small business. You designate a room in your home that acts as the office and spare a few hours after leaving the office to work on building your empire. But, whether you are just kicking off or have been in existence for a substantial period, you need to protect your small home based business with the right commercial security system. However, most small businesses especially start-ups never understand the need to protect their data and valuables. I mean, why would an attacker choose a start-up instead of a fully grown medium sized company? The answer is simple; small business has more security gaps as compared to medium sized or big companies that understand the value of their data and the need to protect it. 
Tips to keep your home based small business safe from commercial security threats.
Invest in a small business security system
Having an office in your home means that you have more property to protect. So, you need to increase the level of security in your home to ensure that you protect your growing business and your family concurrently. To achieve this, consider purchasing enough carbon monoxide detectors, intruder alarms, intercom systems that allow you to communicate with clients from your office and IP surveillance cameras. Above all, ensure that the system is smart and can be connected to your smart devices for real-time updates. 
Secure crucial business data and networks
Every business features crucial information that must be protected to ensure a favorable growth environment. So, to maintain your small businesses' integrity and credibility, protect client data like credit card and medical information at whatever cost. Start by installing malware, firewall and anti-virus software to protect your computers. Backup manual data electronically, have strong passwords and encrypt sensitive data as well as your Wi-Fi connections. 
Understand what small business insurance policies cover
When operating your business from home, you may be tempted not to take out a business insurance policy because your homeowner's insurance policy covers business equipment like computers, telephones, and desks just to mention a few. But, remember that your business is all about data and clients yet the homeowner's insurance does not cover data loss, liabilities and lost income. If you are not certain about taking out business insurance policies, consult a professional insurance agent you trust. They will examine your situation and recommend the ideal policy for your small business. 
Conclusion
Commercial security threats are issues that must be addressed by all businesses whether small or big industry players. So, as you conduct your business research and budget for its kick off, designate some funds for security. Starting off safe also reassures customers that their interests and private information will always be well-protected even as the business expands. Some clients will demand to know how well your business information is protected before choosing to work with you. It is also advisable to consult small business security experts to advise on the right security systems for your home business.
Tags: