Keeping Your Business Secure with Access Control
May 21, 2018 at 4:25 PM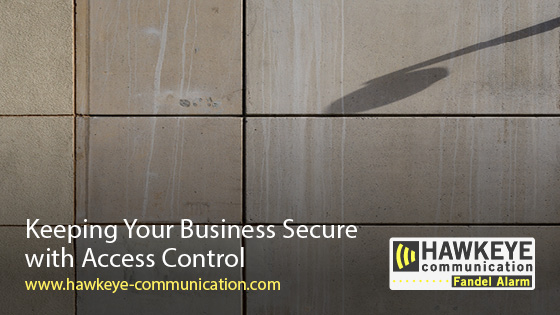 Designed to give you enhanced security, access control provides you with intuitive commercial security solutions that will keep your property, staff members, and inventory safe. From simple solutions to complex systems, there are many ways to use access control to keep your business secure. 
Let's take a look at some of the ways access control can keep your property safe: 
Utilize multiple security levels - Access control is about making sure outsiders can't get in unless they're expected and that your staff members are sticking to areas that only pertain to them. With access control, you can determine who can enter the building and where they can go. Keep employees who don't need to enter high-security areas out by controlling their badge access.
Badges and key cards - When your commercial security solution includes access control, you don't have to worry about who's entering your building. Each of your employees will be given a badge or key card that lets them enter the door. Anyone without one will have to check in at the visitor's desk or call the person they're supposed to meet. 
Control when employees can enter - Do you want to limit employee access during the weekends or holiday shutdowns? Access control lets you determine when the building is accessible to anyone on your staff. 
Remote access - A lot of business owners enjoy having access control because they can access their system from home. If there is a security breach or threat, you will be notified the moment something is up. You can also update any access settings should a technician or your maintenance team need in.
Keyless entry - Traditional lock and key systems are outdated for several reasons. For one, it can be difficult to get keys back when employees leave your staff. They also leave room for error since they have to be locked on-site. If a staff member forgets to lock a door, you don't have to send someone to the property because you'll have the power to lock the doors via remote access. You can also program your system to automatically lock when all shifts end. 
Browser-based access - When you work with a commercial security team like Hawkeye Communication, your remote access system is easy to use. Your system will be browser-based so you don't have to worry about downloading a bunch of software onto your computer or mobile device. Simply log in and you have access to your security system from anywhere. 
Whether your commercial property is in Waterloo, Cedar Falls, Cedar Rapids, Hiawatha, or Marion, Iowa, Hawkeye Communication is here for you. Our team takes pride in helping business owners maintain high-quality security systems that include access control, video surveillance, fire detection, and more.
The experienced and trained technicians at Hawkeye Communication will maintain your system long past its installation date and are on-call 24/7 should you need help with your commercial security system. Give us a call today to discuss what our team can engineer for you. 
Tags: