Keeping Your Home Safe While You're Away
December 6, 2017 at 10:11 AM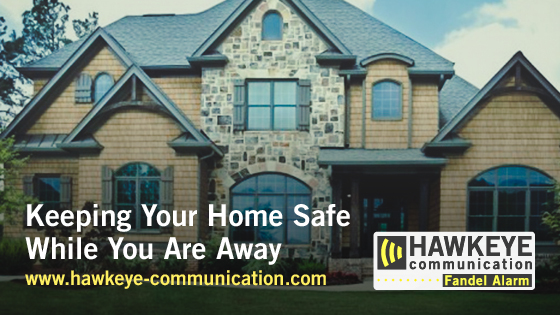 Are you stoked for your upcoming vacation? If you're taking some time to travel far or you're simply taking some r&r time, make sure you're not leaving your home vulnerable. Gather everything you need for your time abroad, at the beach or camping, and then prep your home too. 
While no one wants to deal with a break-in, it's always better to be safe than sorry. To help you stay organized, we've put together a list of things you can do to prep your home before you hop in the car or take flight.
1. Take care of Fido: If you're not taking your pet with you, be sure to make arrangements for him. Consider hiring a house sitter so your pet can enjoy the comforts of home while you're gone. Your house sitter can water your plants, pick up the newspaper, and take your dog for a walk. Reach out to a family member, friend, or coworker you wouldn't mind having in your home. That way your home isn't left empty, which makes it vulnerable to criminals, and your pet will be taken care of. This might not be the cheapest option, but it will put your mind at ease. If a house sitter isn't an option, take your pet to a local daycare that also boards. Also, check with your vet to see if they offer boarding services. 
2. Don't post it on social media: It's tempting to post about your vacation on Facebook, Instagram, and Twitter, but you never know who will end up reading your post. Even if you know everyone on your friends list, it's possible that others will tip off strangers that you're gone. No one wants to announce to a group of strangers that they're leaving for three weeks in December to go to the Dominican Republic, so don't post it online. Something else to consider is what you say in your voicemail greeting. Callers don't need to know that your home is now empty. Just tell them you can't come to the phone right now.
3. Let the police know: Did you know that you can actually tell the police that you'll be out of town? If you're going away for the weekend, it's not necessary, but if you'll be gone for at least a week or more, you should give them a call. They can add your street to their routine patrols. Do you have a security system for your home? Leave a house key and the code with someone you trust and let the police and alarm company know that person is watching the house for you. Consider giving the police and the alarm company this person's name and phone number too. 
4. The curtain situation: The question of leaving the curtains open or closed has always been up for debate. Closed curtains prevent anyone from seeing in, but that also includes the police. If someone happens to be scoping your home over the course of a few days, they'll also notice the lack of movement. So what do you do? The best practice is to leave your curtains as you would when you're home. Major noticeable changes can indicate that you're gone. Make sure to keep valuables such as tablets, laptops, and jewelry tucked away (or at least out of sight). 
Now that you know how to keep your home safe and sound while you're away, you can finish packing and have a great time!
Tags: