Kid-Friendly Smart Home Options for Cedar Rapids and Waterloo
May 3, 2019 at 11:00 AM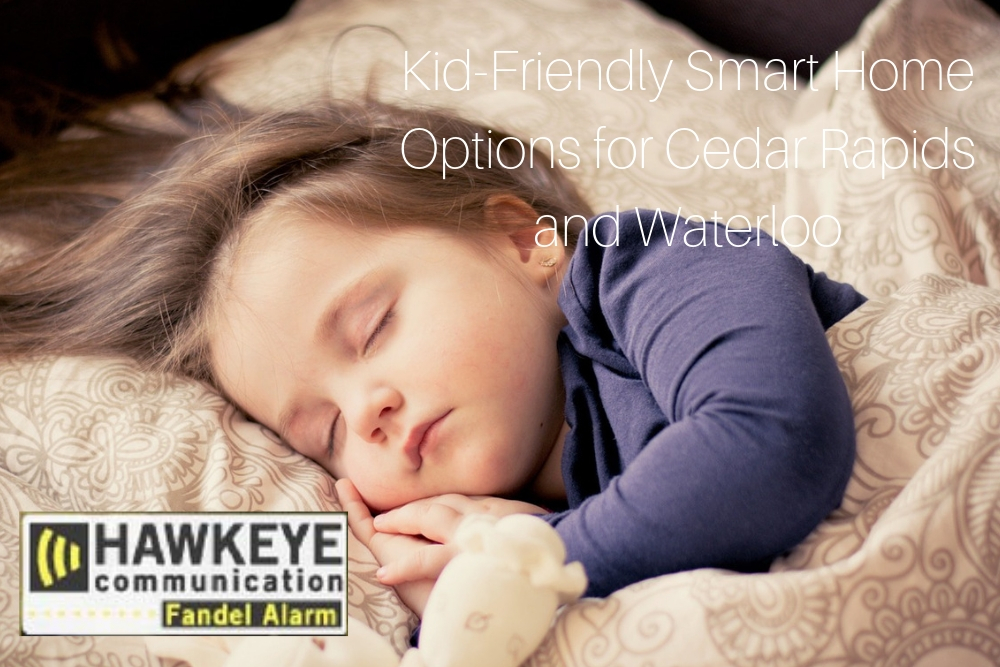 Raising and protecting our children has become easier with the help of smart home security systems. Through these, parents can ensure the safety of their kids at home while they work. You can even control their internet access and the appliance use while saving energy, even if you are far away.
For more tips on how you can use smart home technology to protect your kids in Waterloo and Cedar Rapids, check the list below.
Create Daily Routines with Smart Assistant
Starting your day can be challenging when you have kids. A smart assistant can help you with this. A voice assistant can help get your kids to know their routine. This way, you can also finish the tasks on your own.
Daily morning routines such as the wake-up alarm, the brushing of the teeth and eating breakfast can now be laid out by your voice assistant. In this way, your kids can get ready in the morning even if you are not monitoring them physically.
A smart assistant can also automatically adjust your home's temperature when you are out of the house and once you got home. You can also set reminders for them to finish their homework and the time control over their television time.
Nevertheless, you should still ensure you spend some quality time with them because physical interaction with your children is still very important.
Limit Your Kid's Screen Time
Often times, when you're not at home, your kids have a tendency to watch non-stop. But with the help of a smart TV, you can set timers on your TV while limiting the content to age-appropriate content. This way, you can ensure that your kids are not watching TV all day long and they can't access to mature sites.
Manage Appliances to Save Energy in Waterloo and Cedar Rapids
Sometimes, even us not just our kids, forget to turn off the lights and other appliances. With a smart home system, your appliances, lights, and energy usage are monitored and set-up.
Smart devices such as motion sensors combined with timers can be used to lessen your energy consumption. A motion sensor can turn off the lights when a room is detected to be empty.
Another good thing about these smart devices is that you can control and access them thru a mobile app. Making it easier for you to control your energy usage and home's safety.
Smart Bedtime Routines
If a voice assistant can help you in waking up your kids, smart home technology can also help you put your kids to bed. It can help you:
Turn off electronics

Lower the lights

Close automated window blinds

Play soft music or lullabies

Read bedtime stories
Smart Sensors in Waterloo and Cedar Rapids
Kid's are extreme little explorers. Unfortunately, this can get them into trouble at times.
Smart devices that lock your medicine cabinet and cleaning supply can prevent your little explorers from ravaging these places. A smart sensor attached to your cabinets can notify you once it senses any movements. This way, your kid's are safe from taking in harmful chemicals and medicine.
A smart sensor can also help you monitor if your kids inside and outside your home. It can alert you if your kid is wandering near the pool area or your barbecue grill.
Home Video Monitoring
Smart home technology can parents track their kids. A home video monitoring system can help you monitor your kids with a live stream video when you are not at home. This also helps you check who enters and leave the house. It can also help you monitor activities around your perimeter.
Smart Locks
Often times, our school-age kids come home earlier than us. By using smart locks, you have control over the lock of your home. This allows you to open and lock doors from your mobile devices in case you kids forget.
This can also help you grant or limit access to your home. You can grant access to trusted friends and family to enter without keys and limit strangers from barging in your home.
Video Doorbells
Smart locks combined with video doorbells double the security of your kids when you're not at home. This allows your kids to see who's at your door thru the monitor inside. It can also send you a video live stream of the moment. You have the control of whether to answer the door remotely or tell your children how to respond.
These are just a few of the things home automation offers to create a kid-friendly smart home. If your home is not yet a smart one, we'll be glad to assist you. Let's talk.
Tags: