NICET Certificate as A Requirement to Be Hired by Clients
May 10, 2019 at 11:00 AM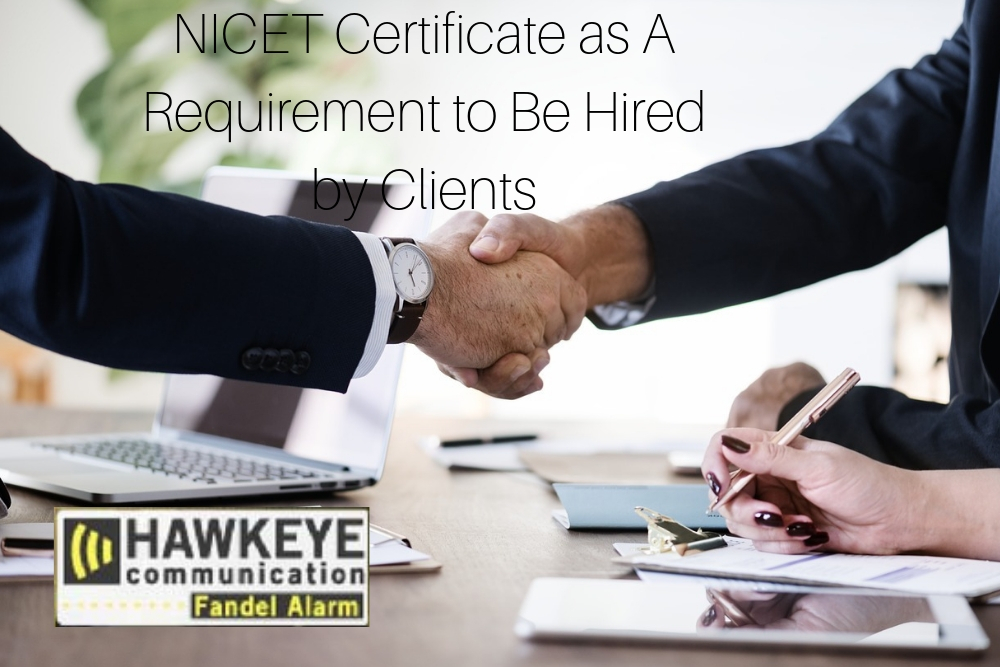 Nowadays, more and more clients are looking for NICET certified company to hire when it comes to the fire alarm system. It is now an edge if a company is certified by NICET. It allows the client to know that the company they're paying is qualified for the job.
Through a NICET certificate, a client can be sure that the company offering a fire alarm system is qualified and expert on their job. Without this certificate, a company might be taken into consideration.
This is evidence of a company's level of expertise offering fire protection technology. What is NICET certificate and what are the benefits of it for the engineering company?
NICET or National Institute for Certification in Engineering Technologies is a non-profit division that is recognized nationally by the National Society of Professional Engineers from Alexandria Va., who provide an independent evaluation of the technical knowledge and experience of individuals in the engineering field.
They provide a certificate with detailed information on their website regarding individuals' quality when it comes to engineering. They document work experience, written examinations, and recognizes professional development and continuing education on the engineering field.
NICET has four levels. Level I - is a large portion of the Level II - are the individuals tested regarding engineering standards and codes. In Level III - individuals are challenged to go beyond the box in the application of the codes and standards.  While in Level IV -  participants deals with situations that are more than the codes and standards.
Each category has specific manuals on what an individual will go through. Passing a NICET examination helps an individual to have a better edge than those who did not. It shows that they have undergone a prominent level of testing of their knowledge and capacity. Knowledge of specific codes and standards to be used in different cases were proven and tested.
Hawkeye Communication/Fandel  Alarm has proven their selves in the fire protection technology field. Their technicians, designer, and engineers are NICET certified professionals. They guarantee a top of the line services in Cedar Rapids. They are compliant with codes and standards.
Here are some reasons why Hawkeye Communication/Fandel stands to be the best:
Certified and Knowledgable - their people are NICET I, II, and III certified and factory trained in Fire Lite and FCI Gamewell.
24/7 Emergency Service - they have technicians to help you 24/7.
Customized Designed System - they can fit fire alarms system in any building size and meet requirements
Do you need a quote for your building's fire alarm system? Need help regarding fire protection?
Call us today and we will help you!
Tags: