The Perks of Using a Sonos Sound System
April 11, 2018 at 11:14 AM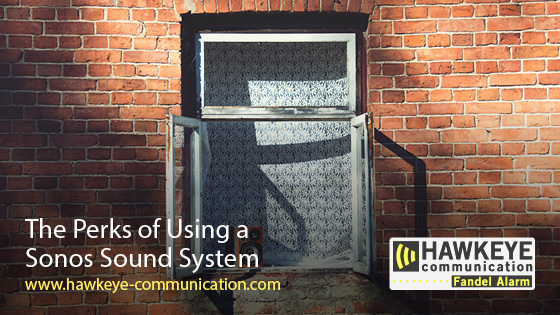 Are you ready to upgrade the sound system in your commercial space or office? As one of the leading audio experts in eastern Iowa, we at Hawkeye Communication recommend Sonos sound systems because of the many benefits they offer.
Let's take a look at the advantages of using a Sonos sound system. 
Wireless Capability
One of the biggest perks of using a Sonos system is that they're wireless. With these systems, you can skip all of the following issues: 
Checking and rechecking to make sure everything is plugged into the right place

Finding out the wires don't reach the desired speaker and having to start over

Dealing with a messy, cluttered collection of wires

Putting in extra time and effort to hide the wires
Going wireless gives your office, conference room, and overall business environment a cleaner look. Plus, you get to skip all the headaches that generally come with wires. 
You Get the Right Fit
Sonos offers a variety of systems, which means you can select the right one for your commercial space - no matter how big or small it is. Do you have a five-year expansion plan in place? Your current system can be upgraded or expanded to fit your future business growth. Let's take a closer look at their options:
The Play 1: This speaker system is designed for smaller spaces such as a small office or smaller conference room. It's wireless and has a high-quality HI-FI sound even though it's a compact system. 
The Play 3: This version is an ideal one for smaller offices or as the rear speakers in a conference or theater room setting. Because this option comes with speakers, a passive bass radiator, and amplifiers, it can easily meet most commercial sound system needs. 
The Play 5: This six-speaker system packs a punch. Featuring D-class amplifiers, the Play: 5 is ideal for larger conference rooms. This is the biggest system Sonos offers, which means it will give you the boldest sound. 
Playbar: This system comes with nine digital amplifiers and is the perfect basis for a theater room. If you're looking for a surround system that's perfect for presentations, try pairing this with the Play: 1 or Play: 3.
Enjoy Your Music Throughout the Office
Are you looking for a comprehensive audio system? Sonos is the right choice for your commercial space. It lets you sync the speakers to play the same music throughout the building or play different music in different areas. For example, you can play classic rock in the front foyer or something a little more relaxing in the waiting area.
Hawkeye Communication is your local source for commercial audio systems. Our team can assist you throughout the selection, setup, and maintenance process. We happily serve commercial clients throughout Cedar Rapids, Hiawatha, Iowa City, Waterloo, and Cedar Falls. Let us upgrade your commercial audio system. Give us a call today and we'll set up a free consultation with you to determine your business' specific needs. 
Tags: