Securing Your Home with Honeywell
April 30, 2018 at 9:51 AM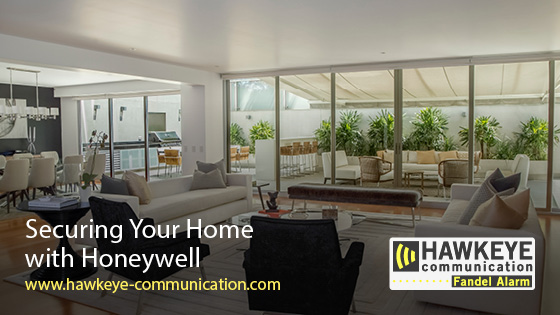 Many homeowners turn to Honeywell products to keep their homes secure - and for many good reasons. For one, Honeywell is a reputable brand that has been making products under the Honeywell name since 1927. They focus on being the best in the industry and pour technological resources into every product. 
As a homeowner, you have family, pets, and property to take care of, so why waste your time on home security products that won't work? No one has time for that. 
Let's take a look at how Honeywell can keep your home secure. 
1. Modern Design
Back in the day, home security systems were bulky, they were an eyesore on your wall, and they had to be manually operated. As soon as you walked in the door, you had to run to the system to disarm it or the alarm company would be calling to make sure everything was fine. 
Those days are behind us and having systems that are convenient to operate is just as important as the security benefits themselves. Honeywell security systems are sleek, modern-looking, and represent cutting edge technology. 
2. Total Connect
If you're like the average Iowan, you're busy running around to several places each day, which means you sometimes forget to arm your system. With Honeywell, you receive the Total Connect system. This remote control security system works with your smartphone, mobile device, or laptop and offers a variety of features to keep your property safe whether your home is in Cedar Rapids, Waterloo, or Cedar Falls.
3. Remote Keypad
On the days that you forget to arm your system, you don't have to worry. The Total Connect app allows you to tap into your security system wherever you are. The best part is that it operates just like your wall-mounted keypad at home.
With the Android and iPhone mobile apps, you can arm, disarm, silence your system, check its status, and access multiple accounts (for example, if you have properties in both Cedar Rapids and Waterloo). 
4. Video Monitoring
Do you already have video cameras on your property or are you interested in adding them to your security system? With Honeywell, it's easy! The Total Connect app lets you access your video surveillance at any time from your mobile device. Check out the view on up to six cameras at once to avoid potential threats in real time. 
5. Set Up Alarm Alerts
Life in Eastern Iowa can get busy. We're a working community that's taking care of our kids and sometimes helping out our elderly family members too, which means it can be tricky to keep up with everything you need to know. The Total Connect system lets you set up real-time alerts for anything you want to keep up with. 
Receive alerts for when your child returns from school, when your elderly relative leaves your home, or even when doors to restricted areas are opened. Honeywell security systems are designed to adapt to your lifestyle and the sky's the limit. 
Hawkeye Communication is a team of home and commercial security experts that can design the perfect system for you with Honeywell products. If you're in the Cedar Rapids, Cedar Falls, Waterloo, or Hiawatha area, be sure to call us today to discuss your security needs. 
Tags: