Should You Make Your House a Smart Home to Increase Market Value?
December 11, 2017 at 10:48 AM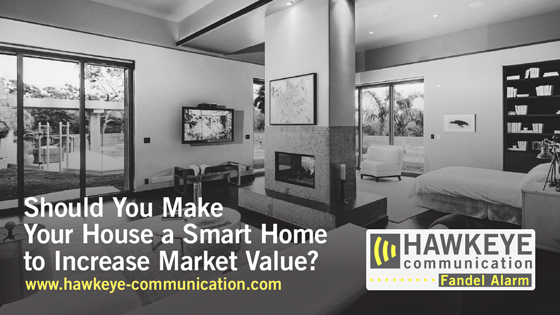 Most homeowners plan for home upgrades with a return on investment plan in mind. Many home upgrades focus on room additions, bathroom makeovers, kitchen renovations and floor improvements. But, as the smart home hype continues to take root, most homeowners are debating on whether to connect their homes to the internet of things. They hesitate because they are not certain whether their investment will pay off when it's time to sell. However, some homeowners especially tech people who enjoy smart amenities and the peace of mind they offer will automate their homes without a second thought. 
There are numerous home renovation activities that you can undertake to ensure that your home represents your personal style while adding long-term value. This includes home automation. Moreover, you can make your home more secure by upgrading it to a smart home. Most home buyers can appreciate the idea that their new home offers peace of mind. Knowing that they can monitor their home, children, and elderly loved ones when at work or on vacation is very reassuring. 
Most current home security systems are wireless and rely on technologies such as Z-wave that ensure the systems identify, interact and control all smart devices in your house. As such, smart systems control lighting, how your appliances function, room temperatures, and door locks just to mention a few. 
The ability to control all the mentioned home aspects means that smart systems also save you money you could have spent on utility bills. Not to mention, most home insurers offer discounted premium rates to homeowners with monitored or smart home security systems. They interpret the technology as an extra measure to protect your home from theft or accidents such as fires. 
Wireless home security systems keep your options open. This means that you can add new smart devices and controls with ease when you wish to add an extra smart home system feature. Though this advantage may be more appealing to tech-savvy homeowners, it is a smart home benefit that virtually any homeowner can embrace. 
At the end of the day, a smart home automation system is used to protect your investment and your family from theft, break-ins and fire tragedies. So, why not enjoy all the benefits smart systems have to offer while knowing that your home's value have increased?
The internet of things is slowly affecting how people operate and go about their daily routines. This means that the smart home automation technology is bound to gain more and more popularity as time goes by. This fact implies that in the coming years and currently among tech-savvy home buyers, smart home automation will be a crucial feature when buying homes. Some buyers will want a smart home exclusively, but there are still some who are unsure about benefits and usage. Such buyers will choose a regular home and test the smart home technology later. If they like the benefits the technology has to offer, they will go for a smart home in the future. This is to say that, you really can't go wrong with a smart home automation upgrade. It only means more efficiency and value.
Tags: