Stay Up-To-Date With the Latest Trends in Home Automation
July 17, 2017 at 11:51 AM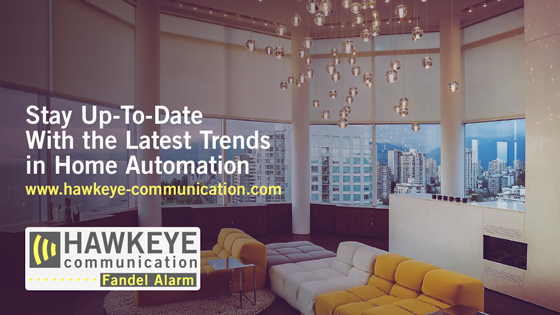 We've all left the house in a hurry and suddenly remembered that we've forgotten something important in our morning routine. The coffee maker is still on or the garage door is still open. Then we start to doubt that we turned the heat down or locked the doors.

Fortunately, today's smart homes are eliminating these problems.

Think about how simple it would be to speak a command such as "leaving the house" or take out your phone and press an "away" button that would close the garage door, turn the lights off and set the thermostat to an energy saving temperature. When returning home this same system could turn on the lights, turn the thermostat to your desired temp, adjust your shades and play your favorite playlist.

Smart homes have become a growing trend. They are easy to use and much more cost effective than before. Today's smart homes and automation technology allow you to observe and maintain your home from anywhere.

Below are five trends in home automation technology you should be aware of:

1. Smart gadgets are now décor-friendly – Thanks to the growing industry, smart device companies have learned how to ensure their products blend in with your décor. Unlike traditional devices, today's products are designed to be aesthetically pleasing, which means your thermostat will no longer stick out like a sore thumb and your smart lock is sleek and modern.

2. Programmable thermostats are a thing – Stop heating or cooling your home for no one. Enjoy the option of turning the heat or air on or down at any point during the day from anywhere with your tablet or smartphone. In addition to enjoying the convenience of this ability, you'll also save money on energy costs.

3. Enjoy power controls and no wires – In addition to more appealing devices, we also enjoy cordless control options. Home automation now allows you to control an array of devices with the touch or swipe of your finger or with handheld or wall mounted wireless remote controls. This allows for installation that does not require cutting into drywall to run wires which eliminate mess and saves time and inconvenience.

4. Doors that can automatically lock and unlock – For those of us who tend to leave without remembering to lock the door, this is an important and useful upgrade. If you've forgotten to lock the door before leaving for work, or you're in the process of unloading multiple grocery bags from the car, smart locks will make your life so much easier. Other benefits include not having to take time off of work or try and juggle your schedule to let someone in. You can simply just unlock your door remotely or give a temporary access code that can be deleted after one use.

5. Security systems are more advanced – Perhaps you've had a clunky home security system in the past that was more annoying than beneficial. Now security systems make it easy and convenient to ensure that your home is secure from anywhere. You'll have the ability to arm your home security system in conjunction with other systems while you are away, using the touch of a button.
Tags: