Steps to Audit your Buildings Security
December 27, 2017 at 10:04 AM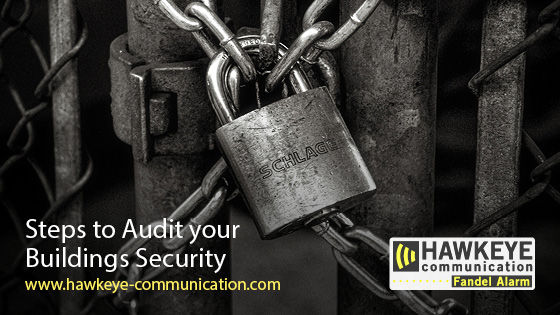 The security of your building is as important as the investment you place on your business. Hence the need to keep on reviewing your security system. Despite having a good and updated security system, it is important to audit your building's security once in a while. The technological advancements and introduction of sophisticated commercial security methodologies influence how crimes are implemented and increasing the criminal capabilities. For this reason, security audits should be an ongoing process that identifies current security gaps. Here is a guide on how to conduct a credible commercial security audit. 
Define your objective
You should have a clear definition of your audit's objective. What are you looking for? Your building's security system may be too wide to be audited with one sweep. So, start by identifying the specific audit areas to avoid redundancy or missing important security gaps that may compromise your investment. A good objective would be determining the effectiveness of your security barriers at the physical entries to ensure that your customers and employees are safe. This would prevent any possible burglaries at the entry points.
Set audit criteria
An audit criterion mentions the security standards that should be observed as well as auditing your current security policies. This prevents risks and mitigates security strategies that have been formulated. 
Define audit methodologies 
To avoid confusion, you need a clear audit methodology statement that is used to ascertain that all your team members are performing tasks assigned to them. Audit methodologies include; survey questionnaires to be filled by all building occupants, review your written policies and procedures that are under implementation, interview your security staff to determine the security gaps they might have noted and test your security system to ascertain that it is in a good working condition. 
Evaluate your security equipment and devices
Your security equipment and devices are core at ensuring that your building is secure. Evaluating your security equipment and devices determines the quality of information you receive via that equipment and devices. You also ascertain the reliability of your security procedures, how they are implemented to store and release back up data when needed. Note the security equipment and devices that have regularly been repaired and if possible replace them. 
Evaluate the physical structure of your premise
This involves evaluating and testing your existing security policies and procedures to determine whether they are suitable and whether adequate measures are being implemented to support your premises. If you establish new complexities and come up with measures on how to address them. 
Conclusion
Commercial security is important because insecurity affects you, your employees and tenants where applicable. So, start by understating your security system, how it operates and its possible gaps. It is advisable to seek assistance from professional commercial security auditors. They understand and know how to reveal even the most hidden security gaps that may lead to security breach when you least expect. It is also important to ensure that you do not reveal your security system operations and weakness to the wrong people during the audit. Designate a few security employees to work with your chosen security auditors. Also, it is advisable to always make a few changes to your system after an audit. 
Tags: