Three Interesting Ways Your CCTV System Can Boost Your Iowa Business
September 16, 2018 at 9:00 AM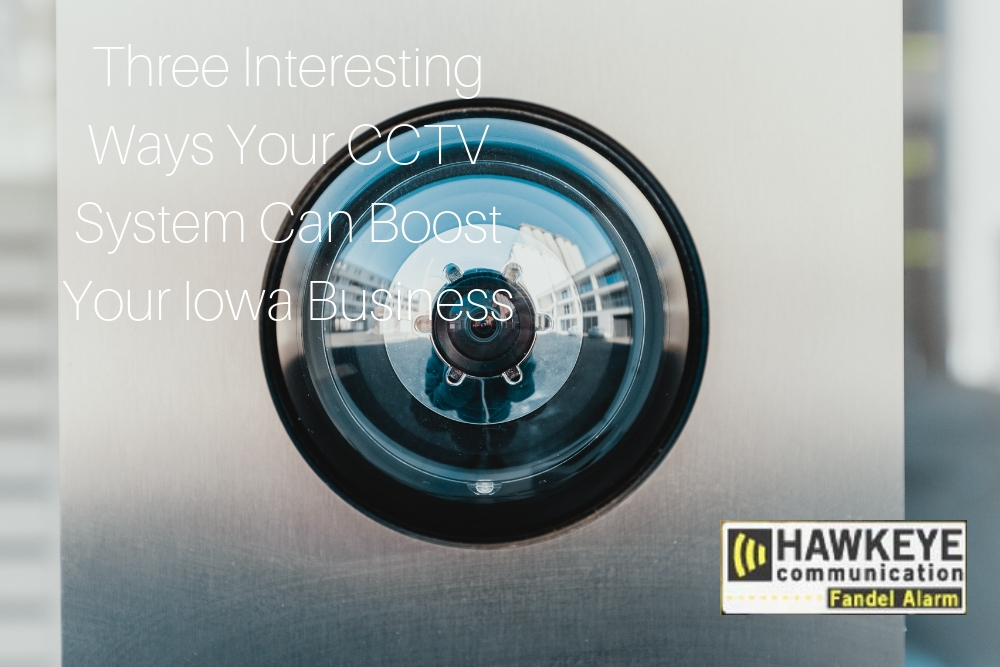 Think about CCTV security cameras for a second. Are you thinking about the peace of mind and value they offer to commercial business owners such as yourself? Most business owners know cameras can protect your business assets and safeguard your staff members but fail to realize their full potential.
It's been shown time and again that CCTV cameras reduce theft and act as a deterrent for potential burglars. But do you know that your commercial surveillance system can offer you so much more?
Hawkeye Communication in Cedar Rapids, Iowa is just the team to help you get the most out of your CCTV security system!
Most of the surveillance systems on the market today are significantly more advanced than those from three to four years ago.
CCTV camera systems can now:
Monitor employee activities

Analyze store traffic patterns

Store data and footage in the cloud

Give you remote access

Protect your business from fraudulent injury claims
The key to maximizing your benefits is to use all of the features your system comes with, which is where we come in. Hawkeye Communication is a team of commercial security experts that will design the perfect surveillance system for your business. We'll also teach you all the ways you can get the best bang for your buck.
Consider the following capabilities of most CCTV surveillance systems:
1. Using Video Footage to Improve Productivity
Washington University studied how video monitoring impacts employee behavior. The 2013 study followed nearly 400 restaurants and the results were impressive.
The study found that employee theft was reduced, which is a big deal since restaurant profit margins are typically thin. One of the most surprising revelations from the study was that productivity and sales went up even more so than theft went down.
While these results may not happen in every industry, it's clear that the employees felt the need to change their behavior based on the video monitoring. If your staff believe their behavior will be picked apart on camera, they're likely to change their habits dramatically, which means productivity gains for you.
2. Video Helps You with Liability
As a commercial business you're required to have insurance, but have you considered how much additional protection you'll have with CCTV surveillance? Video monitoring protects your employees in liability cases, especially if the situation turns into a he-said-she-said scenario.
Liability can affect your small business in various ways including:
Customers who sue after accidents occur

Employee harassment charges

Discrimination charges

Other suits filed against you
If your employees are hesitant about the new video monitoring let them know that it's for their protection too. No matter what happens the footage will have their back so they don't have to worry about situations that get out of hand.
3. Determining Traffic Patterns
Video surveillance lets you analyze a lot of things including in-store traffic patterns. This is the key to creating top-notch experiences for all of your patrons.
Use the footage from your system to determine how customers move through your store and then use it to fine-tune that experience.
To look at customer behavior you need to turn your video footage into data. Take what you're looking at and break it down into numbers so you can make adjustments throughout your store.
Pay attention to the customer journey so you can move merchandise according to what people are looking for. If that means you need to rethink the ground plan, displays, or spacing, do it and watch what happens!
Install Your CCTV System Today
At Hawkeye Communication, we want you to get the most out of your video monitoring system as possible. That's why we use high-quality products to design a customized system for your commercial business.
Give us a call today and we'll visit your property in Waterloo, Cedar Falls, Iowa City, or Cedar Rapids to give you an estimate.
Tags: