Tips for Grilling Safely
May 22, 2018 at 12:12 PM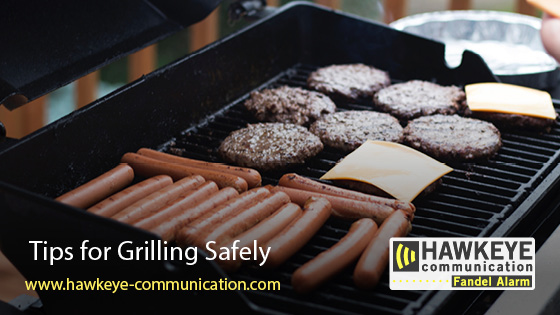 Summer is dubbed the time to enjoy outdoor activities and nature at large. Grilling is one of the most practiced outdoor activities during summer. People enjoy preparing a good meal under the sun as they socialize or bond. However, as much as grilling is exciting, it is important to ensure personal and home safety. Grilling requires specialized equipment and fire. Meaning that any slight mishap can lead to terrible damages and injuries. 
To avoid turning your fun moments into emergencies, here are a few grilling home safety tips. 
Grilling location
The grill should be placed at least 10 feet from your home or any structure. This includes; decks, wooden overhangs, carports, and garages. Always grill in an open area whether using a charcoal or gas grill. Also, ensure that pets and children are as far away as possible from the grill. A simple touch of the grill by your child or pet can lead to emergencies. 
Cleaning the grill
Though grills are used once in a long time apart from during summer holidays, they should be kept clean. Fat or grease build up provides the perfect grounds for the outbreak of an uncontrollable fire. 
Starting a charcoal grill
Charcoal grills may be stressing to start especially during a windy day. As such, you may require charcoal lighter fluids to make the lighting process easier. Avoid using other materials or fluids like paraffin to light the fire. Though they are highly effective, they can easily cause a fire that you cannot control. 
Check for gas leaks
If using a gas grill, it is important to inspect it for gas leaks often. A simple technique used to check for gas leaks is using a soapy mixture. Rub the soapy mixture on the hoses and connectors and turn the gas on. If any point forms large bubbles, it means there is a leak that must be taken care of before the grill is used. 
Have a fire extinguisher 
When dealing with any form of fire, it is important to have a working fire extinguisher on standby and above all, know how to operate it. In the case of a fire outbreak as you grill, rush for the extinguisher and if the fire continues burning after one minute, contact 911.
Never leave the grill unattended
Anything is possible especially when handling a fire outdoors. The fire can go off suddenly or double in size. So, never leave the grill unattended. Also, know how to control the grill and amount of fire. Once you are done using the grill, ensure that it is completely turned off before leaving it unattended or storing it. 
Summary
Grills have become a must have in every household because it is the epitome of summer fun at home. However, if mishandled resulting accidents can be fatal. Hence, the need to follow the above tips among others like; never using the grill indoors, using long metal utensils with wooden handles when flipping foods and wearing short sleeved clothes. Evaluate your situation to determine other important home safety tips that you should adopt when using grills.
Tags: