Tips to Keep Your Kids Safe this Summer
May 18, 2018 at 9:43 AM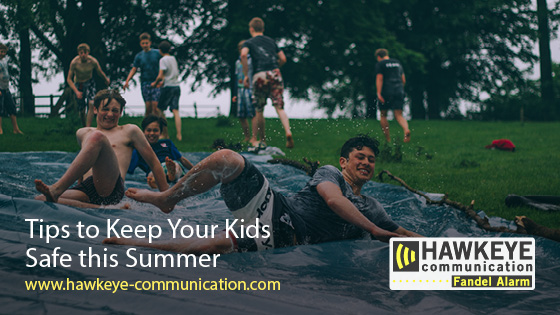 During the summer, there are often times when we have to leave our kids home alone. When they're home alone it's important to know that they are safe, protected and that they know what to do in the event of an emergency. 
Telling your kids to call 911 in the event of a natural disaster, break-in, or fire is a great place to start, but they should know more for their own safety. 
Let's take a look at some ways you can keep your kids safe this summer and teach them about home security:
1. Invest in a home security system
Here in the cities of Waterloo, Cedar Falls, Cedar Rapids, and Hiawatha, Iowa, we tend to take our safety for granted. We're a safe community that supports one another but security threats still happen. 
If you haven't installed a residential security system in your home yet, now is a good time to take the plunge. A high-quality Honeywell system, for example, gives you remote access via an app so you can monitor your system and the activity happening around your home 24/7.
2. Teach your kids about your security system
Having a home security system is a great place to start. If your child is old enough to stay home alone, then chances are they're old enough to be taught how to operate the system. Tell your child about how your specific system works. Teach your kids what can trigger the alarms to go off, what they can do to warn neighbors, and how to get a hold of authorities. 
3. Receive alerts when your kids get home
You can't always be with your kids, but you can receive alerts when they return home. Your Honeywell security system notifies you the minute your kids get home from a day at the swimming pool or their summer soccer practice so you can have peace of mind. 
4. Teach your kids about your video surveillance system
It's important to remind kids of any age that bad people, such as burglars, often pose as postal workers. If you happen to be expecting a package that you know needs to be signed for, let your kids know so they can safely take care of it, otherwise, most delivery services will simply ring the doorbell and leave the package on the front step. 
Because suspicious activity can still occur, it's important to teach your kids how to use your video surveillance system. Give them access to the remote video monitoring or teach them where to look if there is someone shady at the door. They can then reach out to the authorities without ever opening the door. 
If you have questions about how to make your home safer for your kids this summer, speak to the team at Hawkeye Communication. We're a group of trained and experienced residential security experts that take pride in creating customized security systems for homeowners throughout Eastern Iowa. Give us a call today to discuss your home security needs. 
Tags: