Tips for Summer Family Safety
May 23, 2018 at 9:00 AM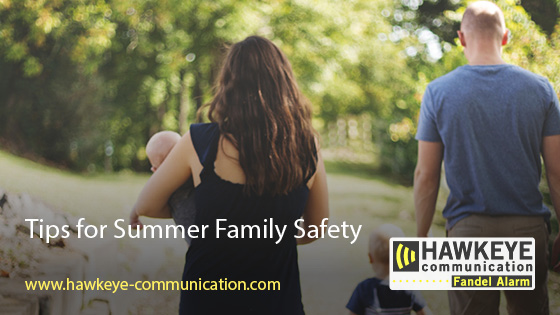 The warmer temperatures of summer in Iowa draw us outside to spend time in the garden, splash in the backyard pool, and enjoy each other's company during a neighborhood block party. But while summer is fun in so many ways, it's also a time when we become lax with our home security practices. 
Opening doors and windows to let the summer breeze bring fresh air into the house means we're more vulnerable to a break-in. As a homeowner and a parent, there are several things you can do to keep your property secure and your family safe during the summer. 
Follow these home security tips this summer to keep the fun happening: 
1. Lock doors 
No matter the season, your doors should always be locked to keep intruders out. Perhaps you just finished cutting the grass and now you're resting on a lawn chair. If you doze off to sleep, your home is a welcome destination for burglars. 
The same doors that were left unlocked during your nap could have been locked with the push of a button on your smartphone. 
Home security systems from Honeywell can be automated so you don't have to worry about managing them. 
Do you want to detect intruders that are on the prowl near your front porch or driveway? Add video surveillance to catch them in the act and deter them from going any further. 
2. Keep windows locked
Windows are less likely to be used to enter your home, but it does happen. Unlocked open windows are the perfect invitation for intruders looking to enter your home. A lot of us homeowners in Waterloo, Cedar Falls, and Cedar Rapids like to bring the cool breeze into the house before bedtime, but it also means you may forget to close them before you go to sleep. 
Close and lock all of the windows in your home, especially before you leave for the day or night. This is a small effort, but it will prevent loss and damage that intruders bring. 
3. Monitor your garage
If you're trimming the bushes out front or are tending to the garden in the back of your home, it's natural to leave the garage door unlocked. But if something distracting happens such as the phone ringing or the kids arriving home, then an intruder could easily steal the power tools in your garage or any valuables you left in your unlocked vehicle.
4. Watch your fence gates
When adjusting the outside perimeter of your home, don't forget to upgrade fence gate locks as they will give you another layer of protection. Any intruder who's interested in breaking into your home will have to go through that first and if you have an alarmed lock on your fence, you'll be notified by your home security system before they ever get into the house. You should also consider placing motion sensors here so they can notify you of a breach. 
To receive a comprehensive evaluation of your home security needs, speak to the home security experts at Hawkeye Communication. We specialize in helping homeowners in Waterloo, Cedar Falls, Cedar Rapids, Marion, and Iowa City keep their homes and families safe. 
Tags: