Top 10 Reasons Why You Need a Home Security System in Cedar Rapids
June 3, 2018 at 9:00 AM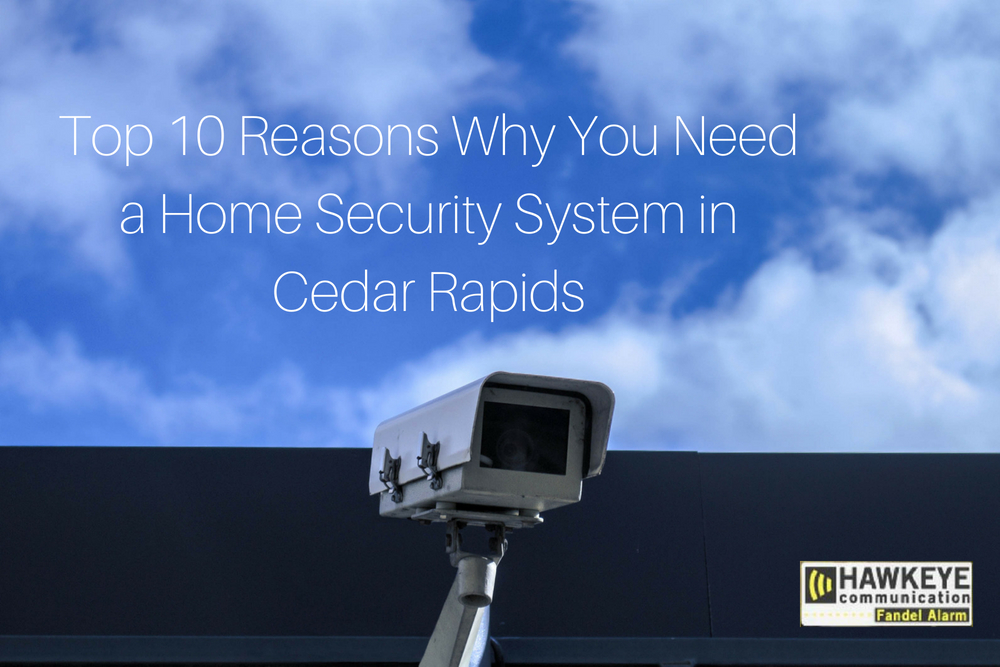 Here at Hawkeye Communication, we're often asked if home security systems are really necessary. Cedar Rapids, Waterloo, and Cedar Falls are often regarded as safe communities with fairly low residential crime rates, but does that make video security systems obsolete in our neck of the woods?
If you're asking yourself what the pros and cons of having a security system are then you've come to the right place.
You clearly value your family's safety and your home's level of security, otherwise, you wouldn't be here. In truth, home security systems have come a long way in the last two decades and they do more than just protect your house from intruders.
A home security system from Honeywell, for example, can control the lights from your smartphone, call emergency responders, and connect to your home automation system. We firmly believe that there are many emotional, financial, and practical benefits of having a security system in place.
Here are 10 reasons why every home in eastern Iowa should have a security and video system:
1. Enhanced security
This one's a bit obvious, but security systems are designed to protect what you care about. By installing a home security system, you're protecting your home, family, and valuables in a very real way.
2. Fire protection

Your security system can do more than protect you against break-ins, it can actually detect your home from fires. House fires are reported every twenty seconds, which is why it's critical to have the appropriate level of protection. Heat detectors can be added to your home security system so you'll know the second a fire is building on your property.
3. Conserve electricity
Did you know that your security system can help you manage your electricity usage? How many times do you or someone in your household leave the house and realize that a hall light is still on or an appliance is running?
The remote access feature of your system allows you to shut off devices and appliances no matter where you are!
4. Save money on insurance
Homeowner's insurance is a necessity, so why not save a little green while you're at it? Your policy is designed to cover losses and damage that occur for a variety of reasons. If you have a security system, be sure to tell your insurance provider so you can save on your premiums.
5. Detect carbon monoxide
Your residential security system can protect you from potential risks like carbon monoxide poisoning. An odorless gas that is found in combustion fumes, carbon monoxide is released from heating systems, burning wood, and stoves. It often takes people by surprise and isn't detected until someone in the home is seriously ill. Let your system take care of the detection for you.
6. Monitor from a distance
Enjoy the freedom to check on your home when you're at work, on the go, or on vacation! All you need is your smartphone or mobile device.
7. Create a smart home
Home automation isn't a thing of the future anymore, it's very real and it's gaining popularity. Your system can help you set up a routine for light controls, thermostats, blinds, door locks, and more.
8. Monitoring the never stops
As a normal adult, you have to get your sleep, take care of your family, and go to work, which means you can't monitor your home 24/7. Your system will do that for you and contact emergency personnel when necessary.
9. Protect your elderly loved ones
Do you have an elderly family member living or staying with you? Your security system can include emergency pulls and medical alert buttons to call for help.
10. Peace of mind
There are a lot of benefits of having a home security system that contains video surveillance, but the biggest one is your peace of mind. Your system will let you relax knowing your home and family are that much safer.
To speak to a team of security professionals about the best system for you, speak to Hawkeye Communication today. We enjoy engineering customized security systems for each individual home and will happily give you a quote today.
Tags: